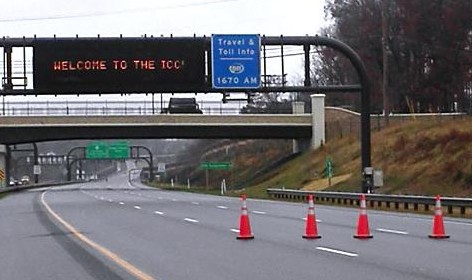 ICC Brings Home Awards
The Maryland State Highway Administration (SHA), the Maryland Transportation Authority (MDTA), the Intercounty Connector (ICC) project team, and several ICC contractors recently earned six additional national awards for innovative design, environmental sensitivity, exceptional craftsmanship, and commitment to safety.
With the addition of these six new honors, the ICC project has now garnered a total of 16 major national awards since the first segment of the roadway opened to traffic in February 2011.
Most recently, Engineering News Record (ENR) magazine selected Contract B of the ICC (from MD 97 to US 29) as the 2012 Best Transportation Project as part of the 2012 'Best Projects' competition in the Mid-Atlantic region. An independent jury focused on projects "that overcame significant challenges, adopted innovative approaches, executed exceptional design and craftsmanship, and maintained safe sites," ENR said in its public announcement of the awards.
Additionally, Contract C of the ICC (from US 29 to I-95) earned ENR's 'Award of Merit' in the same 2012 Best Projects competition for the Mid-Atlantic Region.
Both segments will be honored in a special Mid-Atlantic edition of ENR magazine in December.
"These awards are a testament to the hundreds of people that work tirelessly to deliver the award-winning ICC," said SHA Administrator Melinda B. Peters. "It is only through teamwork, collaboration and dedication that a mega-project like the ICC not only gets built, but is built to the highest environmental standards and practices, on time, and within budget."
Contract B was a collaborative effort by SHA, the ICC Project Team, and the contractor for the seven-mile segment of roadway, MD 200 Constructors.  MD 200 Constructors is a joint venture of Kiewit Southern Co., G.A. & F.C. Wagman, Inc., and Corman Construction, Inc.  The team is supported by the design firm Parsons Transportation Group Inc.
Contract C was a collaborative effort by SHA, the ICC Project Team, and the contractor for the nearly four-mile section of highway, ICC Constructors (IC3).  Principal partners of IC3 include Shirley Contracting Company, Clark Construction Group, Atkinson Construction Company, Facchina Construction Company, Inc., and Trumbull Corporation. The lead design firm for the IC3 team is Dewberry & Davis.
ICC Earns Awards from ABC and FHWA
Also last week, ICC Constructors (IC3) received a 2012 Excellence in Construction Award for Contract C from the Metropolitan Washington and Virginia Chapters of Associated Builders and Contractors (ABC).
Earlier this month, the U.S. Department of Transportation's Federal Highway Administration (FHWA) selected the ICC for the 2012 Exemplary Environment Initiatives for its innovative wildlife passages.  In announcing the award, FHWA officials said, "Your (SHA's) receipt of this award demonstrates your commitment to environmental stewardship and ecosystem-based approaches."
The completed 18-mile section of the ICC roadway includes numerous large and small wildlife passages to help ensure both large and small mammals are able to safely move within their natural habitat without inadvertently wandering onto the highway.
ICC Also Recognized by AASHTO and DBIA
Earlier this month, the American Association of State Highway and Transportation Officials (AASHTO) named the ICC a Top 10 Finalist as part of that organization's 2012 America's Transportation Awards competition.
The Top 10 finalists received the highest number of overall points during four regional contests, representing each part of the country. A total of 49 projects from 34 states were judged in three categories: "Ahead of Schedule," "Under Budget," and "Best Use of Innovation." The 10 projects are now competing for the America's Transportation Awards' Grand Prize, to be selected by a panel of judges, and the People's Choice Award, which will be decided by popular vote of the general public.
Public on-line voting will continue through Friday, October 19 at the following web site link: www.AmericasTransportationAward.org.  Individuals are welcome to vote up to 10 times per day for their favorite projects. The winners of both the Grand Prize and the People's Choice Award will be awarded with $10,000 each, which will be donated by those state DOTs to a charity or scholarship of their choice.
Last month, SHA and the ICC project team earned a Design-Build National Award from the Design-Build Institute of America (DBIA).  This prestigious award recognized SHA's use of the innovative design-build approach for constructing the ICC.
Contract A of the ICC (from I-370 to MD 97/Georgia Avenue) opened to traffic in February 2011.  Contracts B and C opened to traffic in November 2011. Work is currently underway on the final segment of the roadway, known as Contract D/E, which will extend the ICC from I-95 to US 1, including a partial interchange at Virginia Manor Road.  Contract D/E also includes collector-distributor lanes along northbound and southbound I-95 between the ICC alignment and MD 198.
List of Major ICC Awards Received by the SHA and its Partners in 2011 and 2012:
Engineering News Record (ENR) –  2012 Best Transportation Project (for Contract B) and Award of Merit (for Contract C)
Metropolitan Washington and Virginia Chapters of Associated Builders and Contractors (ABC) – Certificate of Merit for Excellence in Construction for Contract C of the ICC
Federal Highway Administration (FHWA) – 2012 Exemplary Environment Initiatives Award
American Association of State Highway and Transportation Officials (AASHTO) – 2012 America's Transportation Awards "Top 10" Finalist
Design-Build Institute of America (DBIA) – Design-Build National Award
American Road and Transportation Builders Association (ARTBA) – First Place and Second Place 2012 Globe Awards
American Association of State Highway and Transportation Officials (AASHTO) – 2011 President's Award
Engineering News Record (ENR) – Mid-Atlantic Region's Best Transportation Project for 2011
Maryland Quality Initiative (MdQI) – 2011 Award of Excellence
WTS Baltimore Chapter – 2011 Rosa Parks Diversity Leadership Award
Suburban Maryland Transportation Alliance (SMTA) – 2011 Transportation Hero Award
Roads & Bridges Magazine – 2011 Top 10 Road
Maryland Asphalt Association's – 2011 Quality Pavement Award for New Construction
Federal Highway Administration (FHWA) – 2011 Award for Exceptional Environmental Stewardship