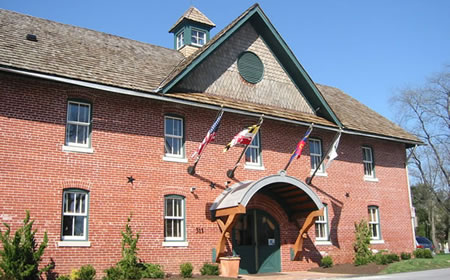 Jazz Master Perry Conticchio Performs at Gaithersburg's Arts Barn
Arts on the Green introduces jazz to the 2014-2015 season with some of the hottest rhythms and coolest sounds in the Washington area. Two DC legends, Perry Conticchio and Rick Whitehead Trio, bring their unique jazz interpretations to the Arts Barn stage. The first concert features the Perry Conticchio Quartet Saturday, Nov. 1, at 8 p.m. at Gaithersburg's Arts Barn, 311 Kent Square Road. Tickets are $25 for adults and $12 for youth (age 18 and under). Come early and enjoy the Arts Barn Pub, featuring Flying Dog beer, wine and non-alcoholic beverages.
Saxophonist and composer Perry Conticchio has built his 35-year career with fresh interpretations of such jazz masters as Miles Davis, Thelonious Monk, and John Coltrane as well as original compositions that are high energy and musically tight. Conticchio says that, as a young musician, his earliest influences were Cannonball Adderly and Frank Zappa.  Later in high school, his discovery of Coltrane was "an epiphany." When choosing repertoire, he often looks for "an ethereal quality," pointing toward pieces by Steve Swallow, Wayne Shorter, Herbie Hancock, Lee Morgan and Joe Henderson.  He also plays many of his own compositions, which reveal his romantic side.
Conticchio moved to the Washington, DC area in 1976 and became an established figure in the "new" music scene. During this time, he performed with Don Cherry, Anthony Braxton, Sam Rivers and many others. From 1994-1998 Perry was co-leader of the successful jazz quartet "Clarity." The Perry Conticchio Quartet is a favorite at The DC Jazz Festival, The Smithsonian Folk-Life Festival, Johns-Hopkins Spring Fest, Blues Alley, One Step Down, Twin's Jazz, The 9:30 Club and many others.
"What people love about Perry," says Arts on the Green music programmer Suzanne Takahashi, "is his unique improvisational style and an irrepressible energy that keeps audiences riveted and engaged." The Perry Conticchio Quartet showcases the band's mastery of jazz improvisation. High-energy solos allow each band member complete freedom of expression and punctuate the new quartet's tight musical interaction. Conticchio leads the quartet in producing an exceptionally satisfying listening experience.
The second concert of the Jazz Series features the highly acclaimed Rick Whitehead Trio taking the Arts Barn stage on January 31. This concert includes jazz interpretations ranging from ballads to Blues, Bop, Latin, and high-energy fusion.  For reservations and tickets call 301.258.6394.