Jud Ashman on His Mayoral Campaign in Gaithersburg (VIDEO)
Gaithersburg voters go to the polls on Nov. 3rd to elect a mayor and three councilmembers. In this MyMCMedia Extra video, Jud Ashman talks about his mayoral campaign and his fundraising efforts to date. Take a look:
Ashman faces Henry Marraffa and Darline D.H. Bell-Zuccarelli in the race for mayor. You can find out more about the candidates, and about the city of Gaithersburg election online, here.
Gaithersburg voters go to the polls on Nov. 3rd to elect a mayor and three councilmembers. In this MyMCMedia Extra video, Jud Ashman talks about his mayoral campaign and his fundraising efforts to date. Take a look: Ashman faces Henry Marraffa and Darline D.H. Bell-Zuccarelli in the race for mayor. You can find out more […]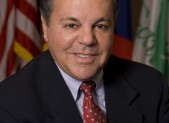 Voters in the city of Gaithersburg go to the polls on Nov. 3 to elect three Councilmembers and the city's next mayor. In this MyMCMedia Extra video, mayoral candidate Henry Marraffa says he believes the race for mayor will be a close one. Marraffa faces Jud Ashman and Darline D.H. Bell-Zuccarelli in the race for […]