Large Power Outage Hits Residents and Businesses in Silver Spring and Chevy Chase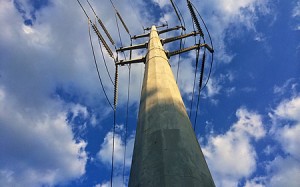 Two power outages- on July 19 and 22- hit 2,000 residents in Chevy Chase and Silver Spring area.
Pepco Spokesperson Bob Hainey said the first power outage was caused by a downed tree limb while the second incident was caused by a crew cutting grass near Metro's Grosvenor station. The crew hit a wire, which caused the power line to become suspended over the rail tracks and eventually it was hit by a train.
Zena Polin, the owner of the Daily Dish, a restaurant in downtown Silver Spring, said it was frustrating trying to get a response from Pepco.
"You called the outage [number], you're lucky if you get through it. You just don't know what's going on. … We are a small business and face a lot of challenges. … I had products to worry about; waiters who were not getting their tips. It's worse to have this happening in the summer than winter," Polin said.
Hainey said power was restored in the area around 2 p.m.
Meanwhile, Polin hopes that Pepco becomes "more proactive" when it comes to communicating what is going on in the community.
I'm so disappointed in you @PepcoConnect. Thx for making a small biz owner suffer. Why don't you use Twitter to update ppl?

— Zena Polin (@TheDailyDishDC) July 22, 2015
Power on! Come on by! http://t.co/82lEylNP5y

— Zena Polin (@TheDailyDishDC) July 22, 2015
A Red Line train snagged two wires & a circuit breaker immediately cutoff power. Approx. 2,000 customers lost power in North Bethesda.

— Pepco (@PepcoConnect) July 22, 2015