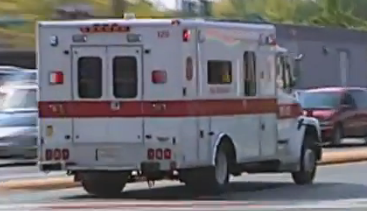 Man Injured in Fall at Construction Site in Bethesda
UPDATED Montgomery County Fire and Rescue crews are at the site of a construction accident in the 8800 block of Ridge Road where a man fell and is now being flown from the scene by Medevac helicopter.
The Medevac helicopter picked up the man at Bradley Hills Elementary School on Hartsdale Avenue about 6 p.m. Friday, according to tweets from MCFRS spokesman Pete Piringer.
According to Piringer, the construction worker fell off a ladder and was impaled on a rebar rod on the ground around the house. Piringer said the man was being transported as a priority one patient.
No additional details were immediately available.
U\D Ridge Rd, Bethesda, Adult. Male, construction worker, fell off ladder & was impaled on rebar rod on ground around house ….more

— Pete Piringer (@mcfrsPIO) October 24, 2014
More….Ridge Rd, #mcfrs rescue workers (RS741) extricated victim, EMS treated & packaged for transport via MSP Medevac to trauma Ctr, Pri 1

— Pete Piringer (@mcfrsPIO) October 24, 2014
8800blk Ridge Rd, Bethesda, construction site, injured person from a fall, adult male, traumatic Injury, EMS evaluating, Medevac requested

— Pete Piringer (@mcfrsPIO) October 24, 2014
U/D Ridge Rd, Bethesda, injured person from a fall, #mcfrs EMS stabilizing patient w/ impaired object, Medevac Helicopter requested

— Pete Piringer (@mcfrsPIO) October 24, 2014