Driver Who Struck and Killed Kentlands Bicyclist Issued Traffic Tickets
UPDATED – The Washington Suburban Sanitary Commission truck driver who hit and killed a bicyclist along Darnestown Road has been charged with two traffic tickets in the accident.
The accident on Nov. 24 at about 9:45 a.m. killed Andrew Gerard Malizio,60, of the 300 block of Hart Road in Gaithersburg. The man who hit him, John Kline, 52 of Hagerstown has been issued two tickets- failure to yield to oncoming traffic on a left turn and negligent driving- on Feb. 5. Each charge carries three points on his driver's license and a fine of $150 for the failure to yield and $280 for negligent driving, according to a police source.
"Those were deemed the appropriate charges in conference with the state's attorney's office," said officer Nicole Gamard. "I know people will be upset about that but that is how the laws are written right now."
According to police, a Washington Suburban Sanitary Commission (WSSC) vehicle, a Ford F550 truck, was stopped at the entrance to the shopping center and an adult male was unconscious in the roadway near a bicycle. Responding officers immediately started life-saving measures and were then assisted by Montgomery County Fire/Rescue personnel who continued those efforts. Despite these actions, the bicyclist succumbed to his injuries at the scene of the collision. He was wearing a bicycle helmet.
Ramon Korionoff, spokesman for the State's Attorney's office, told MyMCMedia, that "none of the actions of the driver rose to the criminal level. Our thoughts and prayers are with the family."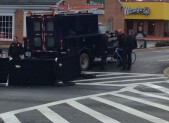 UPDATED, Nov. 24, 3:45 p.m. –  It was a Kentlands resident who was struck and killed on Nov. 24 while riding his bike along Darnestown Road. Andrew Gerard Malizio, 60, of the 300 block of Hart Road in Gaithersburg, was hit by a Washington Suburban Sanitary Commission utility truck Monday morning as he biked east along […]