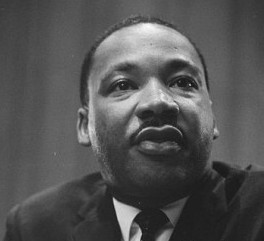 Martin Luther King, Jr. Tribute and Events
Montgomery County celebrates Dr. Martin Luther King, Jr.'s birthday with a musical celebration and a day of service volunteer activities.
Saturday, January 19 and Sunday, January 20, 11 a.m. – 5 p.m.
Food collection drive for Manna Food Center at 27 Giant food stores in Montgomery County.
Sunday, January 20, 3 – 5 p.m.
Tribute and musical celebration at the Music Center at Strathmore, 5301 Tuckerman Lane, North Bethesda.  The event will feature musical and dance acts, and the 2013 recipients of the Children of the Dream, Humanitarian and Literary Arts Awards will be announced. (Free and open to the public, however, there are no remaining tickets. Anyone unable to acquire tickets may come to the stand-by line at 2 p.m. on Sunday at a designated spot outside the Music Center. At 2:45 p.m., patrons in the stand-by line will be allowed entry subject to available seating.)
Monday, January 21
9 – 11 a.m. – Day of Service activities at the North Bethesda Marriott Conference Center, 5701 Marinelli Road. Projects include preparing bagged lunches for county shelters, making snow-day lunch boxes for Meals on Wheels, making fleece blankets for Montgomery Hospice and writing pen pal letters and skyping with students in Uganda.
Monday, January 21
11 a.m. – 1 p.m. – Day of Service volunteer activities at the Silver Spring Civic Building, One Veterans Place. The Youth Activities for Seventh Day Adventists group will host this site in partnership with the Volunteer Center.