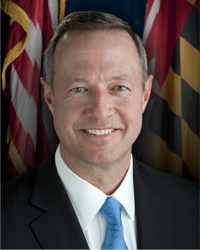 Maryland Love Project Announced
Governor Martin O'Malley launched an online portal where people can submit all of the reasons why they love Maryland by sharing a photo, tweet or story on Friday, Feb. 15.  Submissions will be displayed at love.maryland.gov – a website created and coded by students in the STEM Engine program at the Digital Harbor Foundation. In the early summer, an artist from the Baltimore Love Project will interpret the online submissions and create a mural for display in Baltimore City.
"By harnessing the power of crowd sourcing, we'll be able to showcase all of the reasons why people love Maryland while shining a light on the important role that the arts and technology play in our communities," said Governor Martin O'Malley.
The Maryland Love Project is a partnership between the State of Maryland, the Maryland State Arts Council, the Baltimore Love Project and the Digital Harbor Foundation's STEM Engine program. The online portal was created by four middle school and high school students and two mentors during a 7-hour hack-day at the recently opened Digital Harbor Foundation Tech Center.
"By designing and creating the website for the Maryland Love project, high school students in the Digital Harbor Foundation's STEM Engine program took a little piece of ownership on a project that they should be proud of and that all of Maryland should truly love," said Shelly Blake-Plock, Co-Executive Director of Digital Harbor Foundation.
Members of the public can add submissions to the site by tweeting using the hashtag #MDLove or adding an entry directly to the website.  From die hard Orioles fans to those who couldn't imagine life without Old Bay and Maryland crabs, everyone has a reason why they love Maryland.
"The Maryland Love Project is a reflection of the creativity and the spirit of community that exist in our state.  Public art has a powerful way of reinforcing those connections in beautiful and interesting ways," said Theresa Colvin, Director, Maryland State Arts Council.
"From concept to execution, this will be an exciting project for all those involved. The call for response from the entire State of Maryland will make for a rich dialogue and product, and I am confident that this mural will be a major accomplishment for the state of Maryland.  The Baltimore Love Project is very honored to be a part of it," said Michael Owen, Lead Artist  and founder of Baltimore Love Project.