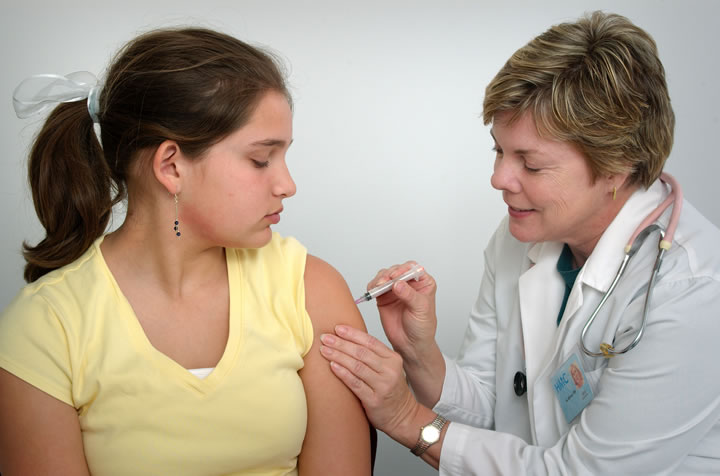 MCPS Schools Hosting Clinics to get Seventh-Grade Immunizations (Video)
UPDATED, Sept. 11, 10 a.m.- There is just one day left to make sure your seventh-grader meets the new immunization requirements and there are a couple clinics open today to help you.
Thursday, September 11
– Benjamin Banneker Middle School, 14800 Perrywood Road, Burtonsville
– Rocky Hill Middle School, 22401 Brick Haven Way, Clarksburg
– Silver Spring International Middle School, 313 Wayne Avenue, Silver Spring
Appointments are required and can be made by calling 311 or visiting the DHHS website: www2.montgomerycountymd.gov/VaccineClinic/
ORIGINAL POST – 
Next week, nine Montgomery County Schools will host immunization clinics to help seventh graders get the new vaccinations they need to stay in school.
New immunization requirements have gone into effect for seventh-graders this year that require all students to receive the TDAP and MCV vaccines. These vaccinations protect students against meningitis, tetanus, diphtheria, and pertussis, also known as whooping cough. Students must receive these immunizations and submit proper documentation to their school by Sept. 12 or risk being excluded from school, according to Montgomery County Public Schools.
To ensure all students have a chance to receive the necessary immunizations, the Montgomery County Department of Health and Human Services will hold free vaccination clinics September 9, 10, and 11, in nine MCPS schools. These clinics are open to any seventh-grade student who needs to receive the TDAP and MCV vaccines, regardless of which school they attend.
The clinics will run from 3 to 7 p.m. at the following locations:
Tuesday, September 9
– Roberto Clemente Middle School, 18808 Waring Station Road, Germantown
– Eastern Middle School, 300 University Blvd. East, Silver Spring
– Julius West Middle School, 651 Great Falls Road, Rockville
Wednesday, September 10
– Briggs Chaney Middle School, 1901 Rainbow Drive, Silver Spring
– Forest Oak Middle School, 651 Saybrooke Oaks Blvd., Gaithersburg
– Parkland Middle School, 4610 West Frankfort Drive, Rockville
Thursday, September 11
– Benjamin Banneker Middle School, 14800 Perrywood Road, Burtonsville
– Rocky Hill Middle School, 22401 Brick Haven Way, Clarksburg
– Silver Spring International Middle School, 313 Wayne Avenue, Silver Spring
Appointments are required and can be made by calling 311 or visiting the DHHS website: www2.montgomerycountymd.gov/VaccineClinic/