Meet Andrea McCarren (Photos)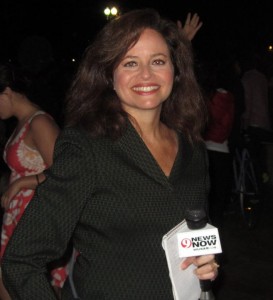 MCM is proud to partner with award-winning broadcast journalist Andrea McCarren who is leading a media training class at our station from 10 a.m. – noon on Saturday, Jan. 26. A Montgomery County resident, McCarren is also employed at WUSA-TV (Channel 9) as an anchor, reporter and producer. I recently asked  McCarren some questions about why she started teaching media training and what you can expect if you sign up for her class. (You can register right here.)
How long have you been running media training classes? How did it begin?
"My media training sessions started informally about ten years ago. Every time I had a friend who was booked for a television appearance, I'd offer advice on what works and what doesn't based on my 26 years experience as a reporter. The demand for help kept growing, so I created my own business. It's rare to have a working journalist be able to assist honing someone's on-camera skills. I am very cautious, for obvious reasons to avoid any conflicts of interest. I never work with anyone I might be covering for a news story. I really enjoy teaching and love to see my students succeed! Nothing is more rewarding than working with someone who's terrified of being on camera and watching their transformation. I'm a big believer in bringing out the best in my students. I've watched some of them who most dreaded being on TV go on to multiple national appearances that were wildly successful!"
Tell me about your classes. How do group classes differ from individual one-on-one training?
"The group classes are really fun. Everyone leaves their inhibitions at the door as we practice doing one-on-one interviews on camera. We videotape them and watch them as a class, with gentle constructive criticism. The class is really like a focus group. It's always fascinating to discover what some people find really endearing about a person on camera and what completely distracts from their message. One-on-one training is really useful for someone who has an upcoming appearance or speaking engagement or is simply putting together a video for their website. These days an online video is as important as a business card. Probably, more so! The one-on-one coaching is much more focused and intensive."
What can your students expect in the class at MCM? 
"I always custom tailor my class to the participants who have signed up so they get the most out of the introductory workshop. There are always a few surprises but participants are sure to learn:
–how to prepare for an on camera interview by learning how to think like a reporter.
–how to craft and deliver meaningful soundbites for taped and live interviews.
–how body language plays an important role in how you come across on camera.
–what to wear for your television appearances and what not to wear!
–how to become a media friendly source or expert."
You are the lead media trainer at other organizations. Tell me what you do and who you work for?

"I'm a full time reporter at WUSA-TV, the CBS station in Washington, D.C. that is owned by Gannett, which is also the parent company of USA Today. I train the print reporters there on a regular basis since they are often asked to be on TV because of their expertise in a particular subject. USA Today also hosts daily online news videos and I've trained their staff members to do that. Even the most reluctant trainee now finds their on camera work fun and exciting! I also train print reporters at international news agencies, including Reuters. My other clients include corporate executives, non-profits, diplomats, authors and the list goes on! Anyone who understands the impact a television appearance can make appreciates being trained. For instance, if you're a small business owner being interviewed for a news story can bring a lot of publicity to your company."
You also teach at several universities? Please explain.
"I've developed the curriculum and taught the first broadcast journalism courses ever at Harvard University's summer school. I've also been an adjunct at Georgetown and a guest speaker at several other universities across the country. Again, I love to teach but sometimes there just aren't enough hours in the day!"
How excited are you about the MCM class?
"MCM is the perfect partner for what I do. First, I'm a big believer in community service and I think MCM does tremendous work for and with Montgomery County residents. I conduct media training sessions at a number of places but I find with the busy lives we all lead, having the opportunity to do this on a weekend morning in a place close to home really makes this more accessible and certainly less stressful for all involved."
Who can benefit from media training?
"Honestly, I think anyone can benefit from media training. Whether you want to enhance your visibility as an expert in a specific field on television or online, or simply want to hone your public speaking skills. This is a great way to get started."
Anything else you want to share?
"I think this training is a win-win for everyone! The trainees will improve their on-camera performance and the media with whom they work get a significantly better prepared interviewee!"
Below are some photos of Andrea McCarren at work in front of the camera. You can sign up for her class here.