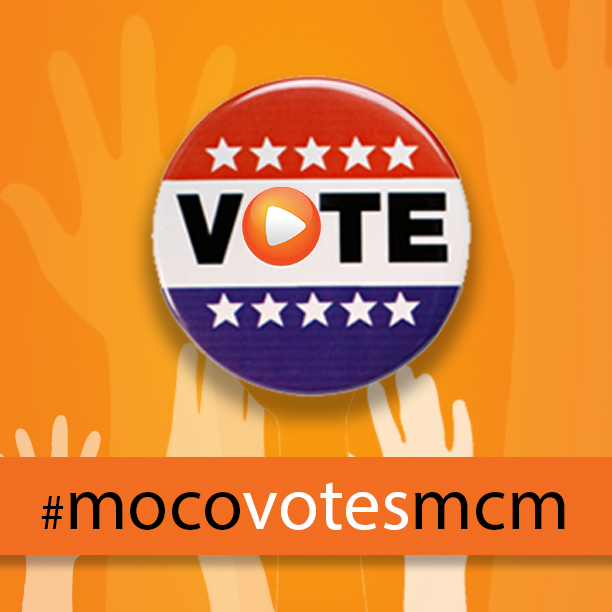 MoCo Votes Blog: Learn About the Candidates

The 2018 Gubernatorial Primary Election is set for June 26, 2018, and it's sure to be a historic election for Montgomery County. When voters go to the polls, they will will elect a governor, a state legislature, a county executive, a County Council, members of the school board and the House of Representatives, and much more. They'll find out whether public financing works in local elections. Early voting in 2018 takes place from June 14 – 21, 2018. Follow our coverage here and below:
Comprehensive Candidate Information Available
Montgomery Community Media's comprehensive look at local races can be found here. We have candidate statements from the county executive, county council and school board. We have clips from forums where the candidates express their viewpoints on specific topics. And we have links to coverage from our reporters.
Lierman Endorses Aruna Miller for Congress
Terry Lierman, who served as the Maryland Democratic Party Chairman and was the Chief of Staff to then Majority Leader Steny H. Hoyer endorsed Del. Aruna Miller for Congress.
Miller is seeking the 6th congressional district seat being vacated by Rep. John Delaney. Delaney has decided against seeking a fourth term and instead is running for president in 2020.
Miller of Darnestown represents the 15th legislative district House of Delegates.
Trone Picks Up Duncan Endorsement; Candidate Plans Veterans Community Meeting
David Trone, the Total Wine and More founder and Democratic candidate for the 6th Congressional District, has been endorsed by Doug Duncan, who served as Montgomery County executive from 1994 to 2006. In announcing his endorsement, Duncan praised Trone for creating 6,000 jobs — 600 in Montgomery — and his leadership in the community.
Trone also announced he will be holding a free community meeting on military veterans and their families in Frederick.
Trone also announced a video and a policy paper outlining his legislative priorities on veterans' issues in Congress.
Gubernatorial Candidates Pick Their Running Mates
Facing an upcoming deadline, gubernatorial candidates unveiled their running mates over the weekend, and at least one had some local flavor.
Alec Ross, the Baltimore tech entrepreneur, picked Julie Verratti, one of the women who started Denizens Brewing Co. of Silver Spring.
State Sen. Richard Madeleno of Kensington chose Luwanda W. Jenkins, a Baltimore native who served many years in state government.
Prince George's County Executive Rushern Baker also looked to Baltimore for his lieutenant governor and tapped Elizabeth Embry. Embry, a Baltimore native, works for the Maryland Attorney General's Office and came in third in last year's Baltimore mayor's race.
Baltimore lawyer Jim Shea selected Baltimore City Councilman Brandon Scott for his running mate.
Former NAACP President Ben Jealous had previously chose former Democratic Party official Susan Turnbull of Bethesda as his running mate.
Gubernatorial candidates must have a running mate to file for the election, and the deadline to file for the June 26 primary is 9 p.m. Feb. 27.
Knapp, Floreen Endorse Marilyn Balcombe in County Council At-Large Race
Marilyn Balcombe, an at-large candidate for Montgomery County Council, has been endorsed by Councilmember Nancy Floreen and former Councilmember Mike Knapp on Friday. Floreen, who has served on the Council at-large since 2002, will vacate her seat at the end of this year due to term limits. Knapp left the Council in 2010 after serving two full terms representing District 2.
"Marilyn is the ideal choice for an at-large council seat. She has worked to ensure that services were meeting the needs of our residents and has helped our local economy not only grow but thrive. Her daughter is a graduate of MCPS, so she understands the importance of providing our children with the best education possible. She is more than prepared to address the issues that she will face while serving us on the Council," Knapp said.
Balcombe, the president & CEO of the Gaithersburg-Germantown Chamber of Commerce, has worked with members of the county government for years in numerous capacities. She has secured funding for schools, libraries, and fire stations, created the county budgets for the five Regional Service Centers, and successfully helped launch BlackRock Center for the Arts.
The endorsements come on the heels of an announcement from the Metropolitan Political Action Committee – MD (METPAC-MD) in which Balcombe was the only non-incumbent candidate to receive official support from the real estate trade group. METPAC-MD is the political action committee of the Apartment and Office Building Association of Metropolitan Washington (AOBA).
Elrich Picks Up Endorsement from Progressive Maryland for County Executive
Progressive Maryland has endorsed Montgomery County Councilmember Marc Elrich for Montgomery County Executive.
Elrich, a Democrat, is running against Montgomery County Councilmembers George Leventhal and Roger Berliner; former Rockville Mayor Rose Krasnow; Del. Bill Frick; and Potomac businessman David Blair.
In a statement released by Progressive Maryland's Executive Director Larry Stafford, he said, "Elrich is a candidate with proven progressive legislative victories. He has worked for the people of Montgomery County by strengthening the job market, improving the public school system and protecting and rebuilding the environment."
"I was a founding member of Progressive Montgomery — the precursor group to Progressive Maryland — and am impressed by the degree to which the organization has become a real force in progressive politics in Montgomery County," Elrich said in a statement. "I have been thankful for their partnership in making the county a better place to live and work and am honored to have their endorsement. I would look forward to continuing to work with them as the next County Executive."
Influential Senate Committee Chairman Won't Seek Another Term
Sen. Ed Kasemeyer, chairman of the influential Senate Budget and Taxation Committee, has announced he won't seek re-election, Maryland Matters reports.
The No. 2 on the committee is Sen. Rich Madaleno of Kensington, who's currently seeking the Democratic nomination for governor in the 2018 primary. Kasemeyer's announcement might lend some to think Madaleno would rethink his gubernatorial bid; ambitious younger senators have often privately complained that the General Assembly's top positions are held by older members who have little interest in moving on. Madaleno told Maryland Matters that Kasemeyer's decision means he's even more focused on taking residence in Government House.
Madaleno, a forceful critic of Gov. Lawrence J. Hogan (R), especially on budgetary matters, said Kasemeyer's retirement only reinforces his desire to run for the state's top job.

"This just makes it more and more important that you have someone of my skill set as governor," Madaleno said, adding that "there's no guarantee" he'd be elevated to the chairman's job if he stayed in the Senate.
Delaney First Out of the Gate — on Presidential Ads
Rep. John Delaney (D-6th) of Potomac, who is giving up his seat in the House of Representatives to run for president in 2020, will broadcast the first presidential ad in Iowa during the Super Bowl this weekend, the Washington Post reports. The focus of the ad will be bipartisanship.
Find earlier political posts here and here