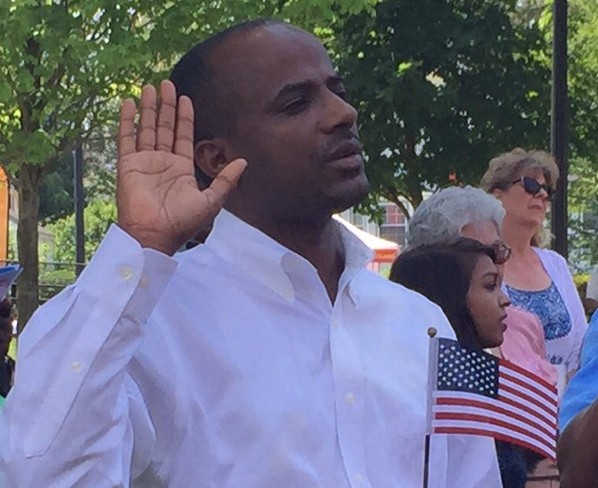 Montgomery College Receives Citizenship Preparation Grant
To celebrate Constitution Day and Citizenship Day, which commemorates the signing of the U.S. Constitution in 1787, U.S. Citizenship and Immigration Services officials announced on Thursday a $10 million grant designed to support citizenship preparation programs.
Forty immigrant-serving organizations from 26 states will receive federal funding to support citizenship preparation services for permanent residents through September 2017. Of the $10 million, approximately $250,000 has been awarded to Montgomery College.
"It's a grant to help fund the college's citizenship preparation efforts – not just helping prospective citizens prepare for the naturalization test, but also furthering their civic integration," said Daniel Cosgrove, public affairs officer at U.S. Citizenship and Immigration Services.
According to a news release, this is the seventh year USCIS has awarded competitive grant funding to organizations to support citizenship preparation efforts. Since the program began in October 2009, USCIS has awarded a total of $53 million through 262 grants to immigrant-serving organizations in 35 states and the District of Columbia.
Montgomery College has offered citizenship preparation programs since 2001, and it received the first USCIS grant in the Fiscal Year 2010.
The grant will also allow college officials to further develop the "Enhanced Integration Task" model to include a technology component to allow students develop digital literacy skills. The college primarily serves permanent residents from El Salvador, Honduras, China, Iran, Peru, and Ethiopia.
Montgomery College is expected to provide citizenship instruction to 480 permanent residents and 356 permanent residents will receive naturalization application services.
In 1952, President Harry Truman signed a bill formalizing the celebration of Citizenship Day. In 2004, Congress established Sept. 17 as Constitution Day and Citizenship Day.