Mother Says Vigil Planned for Missing Grandchildren and Daughter
Catherine Hoggle loved to spend time at the playgrounds in the Kentlands with her two kids and now her mother is asking those who live in that community to keep an eye out to see if she might return there.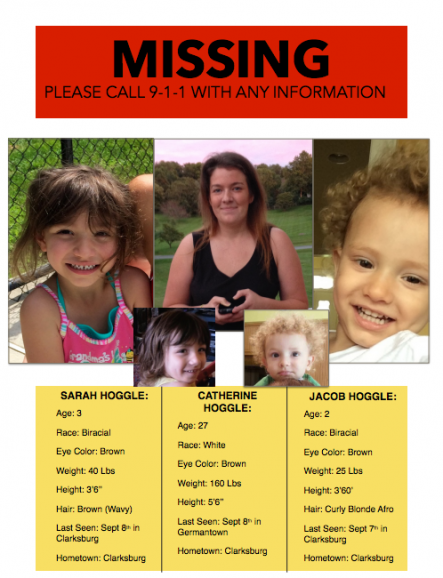 Lindsey Hoggle, Catherine Hoggle's mom told MyMCMedia Friday her daughter who has been missing since earlier this week liked to take her children to the Kentlands, a community in the City of Gaithersburg.
"She is a wonderful mother," Lindsey Hoggle said. "She really spent a lot of time in the Kentlands."
The elder Hoggle said that the children's father Troy Turner rented an apartment in the Kentlands neighborhood.
Catherine Hoggle, 27 and two of their three children, 2-year-old Jacob and 3-year-old Sarah Hoggle were reported missing this week. Hoggle was last captured on video in the area of Route 118 (Germantown Road) between the area of Interstate 270 and the Germantown Commons shopping center on Middlebrook Road on Sept. 9 at about 4:30 a.m. The children are not seen in the video. Catherine Hoggle suffers from a mental illness and family said she takes medication to help manage it.
"Since December of  last year we've been on a roller coaster ride getting treatment, but we have tag-teamed to make sure the kids are cared for. This is a shock for us," Lindsey Hoggle said.
Turner and a team of friends and family have been canvassing the area posting nearly 4,000 flyers with pictures of Hoggle and the children, Lindsey Hoggle said. They plan to next go door-to-door to make sure as many people as they can are aware that they are looking for the three.
Police have a warrant out for Hoggle's arrest, but despite deploying search and rescue teams, have failed to find her or the kids.
A prayer service is planned to be held at Darnestown Presbyterian Church at 15120 Turkey Foot Road in Gaithersburg Saturday at 11 a.m., according to a church official. 

Related: