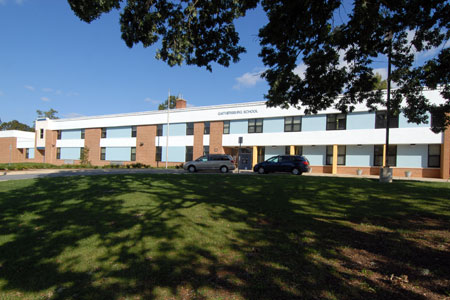 New Report Shows School Capacity in Olde Towne Gaithersburg
Housing development in Olde Towne has got the green light to move ahead after a new report shows Gaithersburg Elementary School serving that area now has adequate capacity.
And that's good news for the city that has been anxious to do more revitalization in downtown.
Gaithersburg Elementary, which had been in strict moratorium in fiscal year 2014, now has a revised capacity of 104 percent. According to Gaithersburg Director of Planning and Code John Schlichting, Montgomery County Public Schools officials remeasured the school and determined that the school could hold 75 more students than they had determined in prior measurements. Areas where projected enrollment in the school  exceeds 120 percent are under a strict moratorium. Schools with a capacity of under 110 percent do not trip AFPO restrictions.
"This is such new news, so we are not ready to go," Schlichting said. "Residential construction in Olde Towne can move forward without a waiver of (the adequate public facilities ordinance)."  Waiting in the wings is a planned development at Diamond and Summit avenues. "That is good news for Olde Towne because we have had goals to stimulate develop there."
But the report had some bad news especially for Rosemont Elementary School that had not been overcapacity but is now predicted to be at 132.7 percent of capacity in fiscal year 2015.  Rosemont is a feeder school to Gaithersburg High School, along with Strawberry Knoll and Summit Hall elementary schools, which are also projected to continue to outpace their capacity. In fiscal 2015, a capacity study is planned for that cluster of schools to compare cost and feasibility of constructing a new elementary school versus classroom additions. Another option to relieve the crowded schools is a change in school boundaries, according to the report.
A crowded Rachel Carson school is keeping plans to build more homes in Kentlands at bay, according to the report.
"Rachel Carson is a big concern to us," Schlichting said.  "There are big plans for Kentlands Downtown that is quite ambitious. It is a lot of multi-family residential, it is significant, but Rachel Carson is the second most crowded but it has been consistently overcrowded for over a decade."
Enrollment at that school is projected to be 142.7 percent of capacity in fiscal year 2015.
According to the report. 36.3 percent of land within the the city is under strict moratorium as defined by the city's adequate public facilities ordinance, meaning projected enrollments in those areas surpass school capacity by more than 120 percent. About 2.2 percent of the city's land is under moratorium but eligible for a waiver and about 61.5 percent of land in the city satisfies the requirements of the APFO, with schools at less than 110 percent of capacity.
 You can find the full report here.