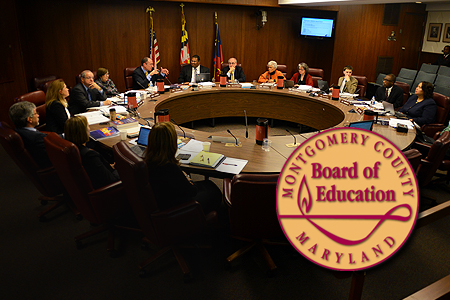 Oct. 8 Board of Education Meeting
Montgomery County Public Schools (MCPS) Board of Education (BOE) will meet Oct. 8 from 9 a.m. to 4:30 p.m. at the Carver Educational Services Center, 850 Hungerford Drive in Rockville. The public portion of the meeting begins at 9 a.m. and will be broadcast live on the MCPS website and on MCPS TV (Comcast Channel 34). Superintendent Joshua Starr is recommending that the district consider pushing back high school start times by 50 minutes and extending the elementary school day by 30 minutes. The recommendation is based on the report by the 2013 Bell Times Work Group, which has been studying the issue of school starting and ending times in MCPS for the past 10 months.The Board will hear a presentation from Starr and the Bell Times Work Group at 2:45 p.m.
View the video on MCPS' post Superintendent Recommends Bell Time Changes to learn more.
The meeting agenda, with related materials attached, can be found on the Board of Education's BoardDocs site.
View the Report of the 2013 Bell Times Work Group online.
Related Posts