October-Here's To Your Wealth
The Markets: 
Like millions of Americans, the U.S. stock market seems to be waiting for the U.S. election for clues on what will happen next. After a sharp January – February 2016 decline followed by an immediate rebound, the end result is that several of the U.S. stock market indices are up only low single digits for the year. And one of last years decliners, the high yield market, is going strong while one of the biggest disappointments for the past several years, emerging market stocks, is finally having a strong year.
For the short term investor, these moves can be frustrating. Longer term, disciplined investors may not even notice such interim fluctuations and instead focus on stocks to help them achieve their long-term goals. Given the very low probability of consistently timing major market moves, I give my vote to those who don't always think they are smarter than the market.
Looking at the bond market, in October we saw a continuation of a move upward in the widely watched 10 year Treasury Note. The 10 year US Treasury Note hit 1.35% in early July and is now yielding around 1.85%. A few months doesn't make a trend, but this is a significant move upward. Since a rise in rates usually means a decline in the price of a bond, an investor who put money into investment grade bonds a few months ago might be looking at a decline in their bonds value. On the flip side, even though the rate of the 10 year Treasury is up about 50 basis points from the July lows, it is still 40 basis points lower than the prior year closing level of 2.27% (see Historical Yields).  For investors trying to perfectly time all these inflection points it may prove as difficult as imitating Simone Biles on the balance beam.
We think that there still can be some life in both the stock and bond market rallies. Even if the Federal Reserve (Fed) raises rates in December, we don't see that as a death knell for either stocks or bonds. Our polling indicates that the Fed will move forward with an increase of 25 basis points (one quarter of one percent) in the target Federal Funds rate confirming our belief that the economy is slowly grinding forward. We also think that the recent run-up in bond yields is factoring in this potential rate rise. What would worry us more than either major party candidate winning the election are disappointing corporate earnings. And we think U.S. companies are positioned to deliver solid results in the coming months. The slowing strength in the dollar, stable oil prices, relatively easy 2015 earnings comparisons, and perhaps some smart legislation out of Congress, all may help stocks in 2017. It's too early to tell, but if we have a House Speaker and Senate Leadership that actually draft some smart legislation we may see an infrastructure spending bill and some much needed corporate tax reform. If that happens 2017 may look a bit like this year – without all the political ads.
Quote of the Day:
 "I always lose the election in the polls, and I always win it on election day."-  Benjamin Netanyahu.
Learn more about Mark Avallone's recently released book, Countdown To Financial Freedom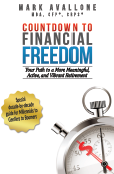 Mark Avallone, MBA, CFP®, CRPS®. www.PotomacWealth.com
Securities and Investment Advisory Services offered through H.Beck, Inc., Member FINRA/SIPC. 6600 Rockledge Drive, 6th Floor, Bethesda, MD 20817 301.468.0100. Potomac Wealth Advisors, LLC is not affiliated with H.Beck, Inc.
This material represents an assessment of the market environment at a specific point in time and is not intended to be a forecast of future events, or a guarantee of future results. This information should not be relied upon by the reader as research or investment advice regarding any funds or stocks in particular, nor should it be construed as a recommendation to purchase or sell a security. Past performance is no guarantee of future results. Investments will fluctuate and when redeemed may be worth more or less than when originally invested. Diversification and asset allocation do not guarantee against loss. They are methods used to manage risk.
* Opinions expressed are subject to change without notice and are not intended as investment advice or to predict future performance.
*The economic forecasts set forth in the presentation may not develop as predicted and there can be no guarantee that strategies promoted will be successful.
* Consult your financial professional before making any investment decision.