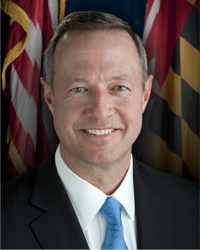 O'Malley Hosts Roundtable on Digital Learning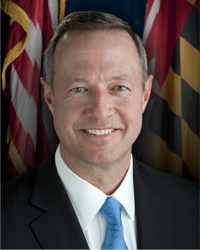 Governor Martin O'Malley Oct. 23 joined educators, state officials and education advocates at a digital learning roundtable to discuss strategies for reaching students in new and innovative ways and preparing them for the 21st century workforce.
"We must ensure that educators and school leadership have the tools they need to make technology an asset in the classroom," Governor O'Malley said. "We will continue to work to reach kids in new and innovative ways, to make learning more individualized and responsive to the needs of students, and to prepare our children for success in the jobs of tomorrow."
Last month, Governor O'Malley and Dr. Lillian M. Lowery, State Superintendent of Schools, announced the first recipients of the Digital Learning Innovation Fund grants. The Digital Learning Innovation Fund helps local school systems maximize the potential of new and emerging technologies to improve the teaching and learning environment and to better prepare all students for the workforce of today and the future. Six school systems plus the statewide SEED school will receive a total of $3.5 million to fund initiatives that help them transition to comprehensive digital learning environments that fundamentally change the interaction between teachers and students.
"With the use of emerging technologies, educators can customize individual student learning in creative and effective ways," said Dr. Lowery. "It is imperative that our teaching and learning environments progress to meet the unique needs of learners and provide world-class skills that our students will need to be successful in ever-evolving work environments."
At today's roundtable, participants discussed what is working and what steps need to be taken to incorporate digital learning into Maryland classrooms.
"As Maryland continues raising student learning outcomes, Governor O'Malley clearly understands that effectively combining quality teaching and technology does not mean just slapping a netbook on top of a textbook and calling it digital learning," said Bob Wise, president of the Alliance of Excellent Education and former governor of West Virginia. "Before massive purchases are made, this meeting shows the state's commitment to having a thorough plan in place about how technology will best meet student needs and further strengthen teachers."
"During our State of the Schools event, I announced Baltimore County Public Schools' plan to move to an Instructional Digital Conversion. We are inspired that Governor O'Malley is highlighting the significance of digital learning. Our students are digital natives, and the time is right to provide tools and access in the classroom they regularly and comfortably use outside our schools," said Baltimore County Public Schools Superintendent Dr. S. Dallas Dance.
Panelists included:
Former West Virginia Governor Bob Wise, current President of the Alliance for Excellent Education

State Superintendent Dr. Lowery and a State Board of Education member

Educators from Baltimore, Garrett, and Frederick Counties

A student from Anne Arundel County

A representative from the State Department of Information Technology
Integrating technology into classroom instruction is part of a larger effort by the O'Malley-Brown Administration to promote innovation in education. In addition to expanding digital learning, this includes creating seamless transitions between K-12 education and higher education and the workforce, and expanding access to training in STEM and other skills relevant to the growing sectors of Maryland's economy.
These innovative efforts are among the better choices by the O'Malley-Brown Administration to help build what Education Week magazine says is the best public school system in America for the fifth year in a row. These better choices are leading to better results. Eight out of 10 of our youngest students are entering Kindergarten ready to learn compared to five out of 10 a decade ago. Maryland's elementary school students have raised their MSA scores nearly 40 percent in both reading and math, and our middle school students have increased their MSA scores in math by more than 80 percent. What's more, Maryland's high school students have been ranked number one in the nation in AP success for seven consecutive years and are graduating at the highest rate in our State's history. In addition, alone among the 50 states, Maryland froze in-state tuition at state colleges and universities four years in a row and has held tuition increases to the lowest in the nation for more than five years. Maryland also invested more in public education, more in innovation, and more in infrastructure than ever before in our State's history.