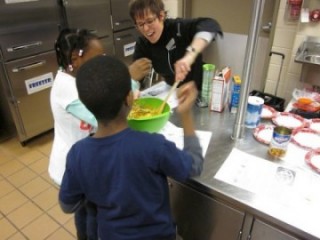 Orange is the New Mac
Smart Sacks is a special program here at Manna Food Center. The program allows Manna to serve over 2100 Montgomery County students with supplemental weekend food. This school year, students noted some changes to the contents of their weekend bag: food in portions large enough to serve a family, more whole grains, and lower-sodium foods. This also includes relevant recipes such as dazzling bean dip and granola yogurt fruit breakfast parfait (an innovative use for canned fruit and crushed breakfast bars).
Macaroni and cheese is, naturally, a nostalgic and beloved item that makes monthly appearances in the kids' sacks. This got me thinking: could kids enjoy an orange vegetable-based macaroni dish just as much as that orange artificial ingredient-laced packet in the blue box?
Each month, I teach a kids' cooking class at the state of the art White Oak Community Rec Center in Silver Spring. The center's large teaching kitchen hosts Manna's nutrition education classes for about ten children form low-income homes. Last class, we created a shredded Brussels sprout saute (kids loved the food processor!) and orange-cranberry sauce. The kids astounded me with their love of vegetables, especially those trying greens for the first time.
For my own dinner table, I've been on a butternut-spinach-basil lasagna kick. This dish never ceases to amaze my veggie-phobic friends and family—who knew a gourd could be so grand? I steam cubes of butternut squash in chicken or vegetable broth and then smooth it out with a potato masher. The resulting puree is a unique creamy, not-too-sweet treat that closely resembles the cheesiest sauce to melt your heart. And that was my inspiration for this week's healthier mac n cheese challenge.
BUTTERNUT SQUASH MAC & CHEESE

1 medium butternut squash, peeled and diced (or one 12oz. pre-chopped bag from the freezer section)
12 ounces of your favorite whole wheat pasta
2 cups water or low-sodium broth
1 tablespoon olive oil
1/4 cup diced yellow onion
1/4 cup shredded cheese (parmesan or sharp cheddar)

Steam the squash
In a large pot with a lid, bring 2 cups broth/water to a boil. Add the butternut squash and reduce to a simmer. Cover and cook until completely soft, about 12-15 minutes. You can also do this whole step in the microwave in a covered ceramic dish!
 Cook the onion and pasta
Heat a small skillet over medium heat, and warm the tablespoon of olive oil. Cook the onion until very tender—it should only take the amount of time it takes to boil the pasta—about 10 minutes. Boil the pasta according to the package directions. Reserve about 1 cup of the pasta water when done, drain, then
Make the sauce
With a masher (or wooden spoon), mash the squash (adding extra broth if needed) until very smooth and creamy. Sprinkle in the shredded cheese and sautéed onions, and stir to combine. Add the pasta and a splash of pasta water until the sauce coats all the noodles. Season with nutmeg, salt, and pepper and serve with a green veggie on the side!
Honest Kid Reviews from 10 Year Olds:
"I like the texture, it's so smooth!"
"I give this a 10 out of 10."
"I give this a NINE HUNDRED out of 10!"
"I give this a MILLION out of 10!"
And then the kiddos had third helpings of the squash and fought over the last piece of broccoli—enough to melt my heart!