Montgomery Works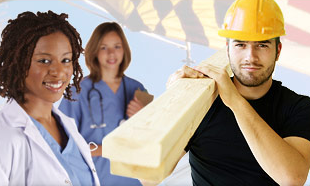 Montgomery Works offers a variety of job-search tools and services at their two workforce centers. They feature the Maryland Workforce Exchange, an internet-based program with everything you need to find a better job or advance your career-24 hours a day, seven days a week. It's a virtual one-stop network that connects you with workforce information, job leads, training opportunities, and a variety of programs and services to help you make the right choices for future success.
MontgomeryWorks mission is twofold: to help Montgomery County residents prepare to enter or re-enter the workforce, and meet the current-and future-workforce needs of local employers. Funded by federal and county workforce investment funds, MontgomeryWorks serves over 10,000 job seekers and employers each year at their workforce centers in Gaithersburg and Wheaton.
Partnership with MCM: Helping Residents Searching For Jobs In Montgomery County
Tens of thousands of Montgomery County residents struggle to find jobs. To help upgrade their skills and learn the latest in job-seeking techniques, Montgomery Community Media is in production on a groundbreaking on-air and online resource called Montgomery Works Job Tips. This series, a collection of one-minute tips on such key skills as creating a perfect resume and nailing the job interview, will be aired on both cable channels 19 and 21, as well as here on the MCM website. Montgomery Works, the county's job placement and career development service, is the editorial partner on the project, with Holy Cross Hospital and Abt Associates as the project's charter sponsors. MCM hopes that Montgomery Works Job Tips becomes a unique on-air and online resource for county job seekers during these challenging economic times.
View Job Tips
Job Tip 1 – 5.19.11
Job tips about resume tailoring, optical character recognition (OCR), key words, and page count.

 
Job Tip 3 – 6.14.11
Job tips about clothes for job-hunting visits and interviews.

Job Tip 5 – 6.14.11
Job tips about skill sets, aggregators, and networking.


Job Tip 2 – 5.19.11
Job tips about job aggregator sites, applicant tracking systems (ATS), and resume updating.

Job Tip 4 – 6.14.11
Job tips about print resumes, electronic resumes, and timed online applications.

Job Tip 6 – 6.14.11
Job tips about phone interviews.