Planning Board Chair Announces Decision to Retire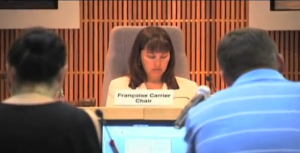 Montgomery County Planning Board Chair Françoise Carrier has announced that she will not seek a second term as Chair.
Here decision was sent via email to the Planning and Parks Department staff on the evening of Jan. 9:
"It is with mixed feelings that I write to tell you I have decided not to seek a second term as Planning Board Chair. It has been wonderful working with such fine people, and I will always love this agency, but for me, one term feels right."
Appointed in 2010 by the Montgomery County Council, Carrier's tenure has been marked as one of the busiest and most productive terms during the Board's history with the approval of Master Plans such as: Chevy Chase Lake, Takoma/Langley, Glenmont, Countywide Transit Corridors Functional Plan and Long Branch. Carrier also oversaw the zoning code rewrite and is responsible for significant changes to the subdivision staging policy.
During Carrier's term, the Planning Board adopted a new Park and Planning Master Plan, the Vision 2030 Strategic Plan for Parks and Recreation; approved park master plans and capital programs; and oversaw the renewed development of the Montgomery Parks Foundation, which successfully cultivates financial support and public engagement of county residents and businesses as donors and advocates.
Carrier will serve until the end of her term, retiring on June 14, 2014.
Carrier became chair of the Montgomery County Planning Board in June 2010 after being unanimously supported by the County Council. She replaced Royce Hanson after his second stint as chairman. Carrier was a director and hearing examiner with the Montgomery County Office of Zoning and Administrative Hearings. She had worked for that office since 2001, carrying out the functions of an administrative law judge in land use and human rights cases decided in trial-type hearings. In some 20 cases each year, Carrier issued detailed recommendations for the County Council or other agencies. She also issued final opinions for a few cases each year. A graduate of Stanford Law School with a background in economics and land use law, Carrier previously worked for three Washington, D.C., law firms for nine years.
The Montgomery County Planning Board Chair position is a full-time position appointed by the County Council to lead the Planning Board. The Chair serves with four Board members: Casey Anderson, Norman Dreyfuss, Marye Wells-Harley and Amy Presley.
Carrier commented that she could not have worked with a finer group of Board members.