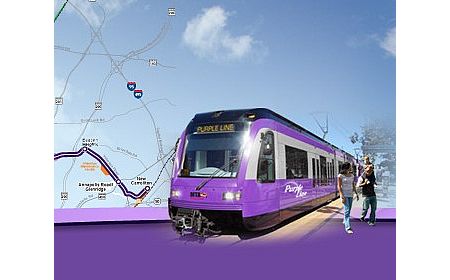 Planning Board Chairs to Hogan: 'Support the Purple Line'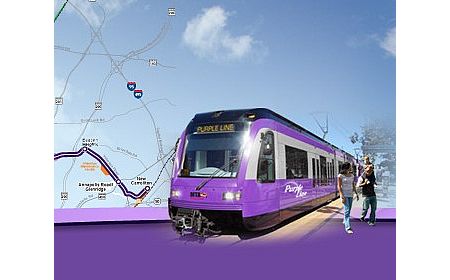 The two Planning Board chairs representing Montgomery and Prince George's Counties of The Maryland-National Capital Park and Planning Commission recently sent a letter to Maryland's Governor-elect Larry Hogan and his transition team explaining the important reasons for keeping the Purple Line on track.
The December 4 letter, sent by Casey Anderson, Chair of the Montgomery County Planning Board, and Prince George's County Planning Board Chair Elizabeth Hewlett also outlines the economic benefits of light rail.
You can read their letter to Governor-elect Hogan, here.
Hogan, the Republican who won November's election, has indicated that he will announce his decision on the future of the Purple Line once he officially takes office in January. Construction of the $2.4 billion transit system is set to begin in 2015, although the state has moved a deadline for bids to design and build the project until after Hogan takes office.
"A failure to follow through on the Purple Line after decades of technical analysis and political wrangling that have brought the project to the brink of approval would not only send exactly the wrong signal to enterprises that have made major commitments of resources to the Purple Line," wrote Anderson and Hewlett, "but would encourage endless delay tactics as a way to block future infrastructure projects."
Both Planning Board Chairs underscore the three decades of planning and design, and tens of millions of dollars. from the state and local governments that have already been invested in the 16-mile transit project. The federal contribution to the project is $900 million and would be reallocated to another transit project – or lost — should the state cancel the Purple Line. This federal money could not be used to fund road or bridge projects.
In their letter, Anderson and Hewlett emphasize the economic rewards of transit-oriented development. More than 80 percent of new employment growth in the DC suburbs occurs within walking distance of a Metrorail station. Recent studies, they point out, show that consumers are willing to pay more for housing in pedestrian-friendly neighborhoods near transit, and that proximity to transit also raises the value of office and retail space. The Purple Line is especially important to establishing strong ties among major business, housing and education centers by connecting Bethesda, Silver Spring, College Park and New Carrollton.
"We know that money for the DC suburbs is a hard sell in some other parts of the state," the two wrote. "But as appointed officials responsible for strengthening the key assets in our counties — particularly those assets needed to be competitive within the DC metro areas for jobs and residents in the future — we urge you to support the Purple Line as beneficial to the economic health of our region and state."