Police Announce Arrest of "Sexual Predator" (Photos & Video)
Montgomery County police have announced the arrest of a man they are calling "a sexual predator."
Police said their investigation began on Oct. 3 when they received information regarding a sexual assault that had occurred in Gaithersburg between the night of Oct. 2 and the morning of Oct. 3.
Police held a news conference for 11 a.m. on Nov. 12 to discuss more details of this case.
According to police,  the victim met the suspect at a bar, Looney's, in College Park, Maryland.  The suspect and victim then went to the suspect's residence in Gaithersburg, police said, where the sexual assault reportedly occurred.
Police said Joey Poindexter, age 38, of the 8400 block of Plum Creek Drive was arrested on October 10 and is currently being held on bond.
"There are likely additional victims of sexual assault by Poindexter," police said in a statement. "Detectives believe that Poindexter is a sexual predator that has been victimizing young adult males for approximately 10 years."
Related posts: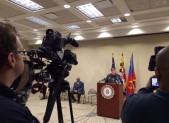 Montgomery County police held a news conference on Nov. 12 to announce the arrest of a man who they believe is "a sexual predator." In this MyMCMedia extra, you will hear Assistant Chief of Police Russell Hamill describe the case and investigation: On October 3, Montgomery County police said they received information regarding a sexual […]
Montgomery County police have announced the arrest of a man they are calling "a sexual predator." Police said their investigation began on Oct. 3 when they received information regarding a sexual assault that had occurred in Gaithersburg between the night of Oct. 2 and the morning of Oct. 3. Police held a news conference for […]