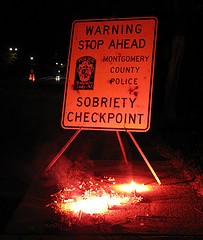 Police Announce Sobriety Checkpoints for this Weekend
Montgomery County Police will be conducting three sobriety checkpoints this weekend in partnership with police from Rockville City, Gaithersburg City, Montgomery County Deputy Sheriffs and Maryland State troopers.
The enforcement is part of the Department's continuing effort to curb impaired driving and underage drinking.  Montgomery County Police report that officers arrested over 3,300 people for driving under the influence in 2013.
The exact location of the three checkpoints will not be disclosed in advance.