Police Arrest Poindexter for Sexual Assault (Photo & Video)
Montgomery County police held a news conference on Nov. 12 to announce the arrest of a man who they believe is "a sexual predator."
In this MyMCMedia extra, you will hear Assistant Chief of Police Russell Hamill describe the case and investigation:
On October 3, Montgomery County police said they received information regarding a sexual assault that had occurred in Gaithersburg between the night of October 2 and the morning of October 3. According to police, the investigation indicates the victim had met the suspect at a bar, Looney's, in College Park, Maryland at an organized beer pong tournament. Police said the victim became intoxicated and went with the suspect to the suspect's residence in Gaithersburg where the sexual assault occurred.
Police have identified the suspect as Joey Poindexter, age 38, of the 8400 block of Plum Creek Drive. Police said Poindexter was arrested on October 9.  He is currently being held on bond.
Further investigation by detectives indicated that there are likely additional victims of sexual assault by Poindexter.  Police said digital images from Poindexter's cell phone were discovered that depicted college-aged men who appear to be in various states of consciousness and in compromising positions.
According to police,  the investigation has revealed ten victims:  One victim in the above outlined assault, two additional victims that have contacted police, one additional victim that may come forward soon, and six unidentified victims (from the digital images).
Detectives said that that Poindexter frequently attends organized Beer Pong events held throughout the greater Washington, D.C. and Baltimore region and has met several of his victims at these events.  According to police, Poindexter is also known to frequent activities involving the young adult population such as extreme sporting events (i.e., BMX and skateboarding competitions).  Police said it is also known that Poindexter recently traveled to Atlantic City, New Jersey, Las Vegas, Nevada, Dallas, Texas, Virginia Beach, Virginia, and Salt Lake City, Utah for such events.  Detectives have contacted law enforcement agencies in these jurisdictions in regard to this investigation.
It is believed that the assaults occurred when the victim was unconscious or significantly impaired by alcohol, police said,  although the possibility of drug use has not been ruled out.  All of the identified victims are heterosexual and did not have any indication of what was going to occur prior to the assault, police said.
Detectives believe that Poindexter is a sexual predator that has been victimizing college-aged males for approximately ten years.  Anyone who believes that he has been a victim of Joey Poindexter or anyone with information about a sexual assault involving Poindexter is asked to contact police at 240.773.5070.
Related posts: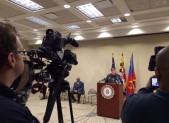 Montgomery County police held a news conference on Nov. 12 to announce the arrest of a man who they believe is "a sexual predator." In this MyMCMedia extra, you will hear Assistant Chief of Police Russell Hamill describe the case and investigation: On October 3, Montgomery County police said they received information regarding a sexual […]
Montgomery County police have announced the arrest of a man they are calling "a sexual predator." Police said their investigation began on Oct. 3 when they received information regarding a sexual assault that had occurred in Gaithersburg between the night of Oct. 2 and the morning of Oct. 3. Police held a news conference for […]