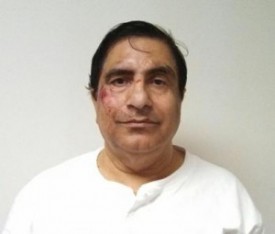 Police Arrest Two Suspects in Germantown Murder (Photos)
Detectives from the Montgomery County Police Major Crimes Division have made two arrests in the Oct. 12 murder of Preeta Paul Gabba that occurred on Crystal Rock Drive in Germantown.
Patrol officers found Gabba, aged 49, in the roadway with at least one gunshot wound to the leg. She was transported to the hospital where she was pronounced deceased, according to police.
Police said several witnesses reported that a female was seen walking near the victim at the time of the shooting. The female left the scene prior to the arrival of the police.
According to police, detectives then learned that the victim's former husband, Baldeo Taneja, age 62, a resident of Nashville, Tennessee, was scheduled to be in court in Montgomery County on Oct. 10 regarding a domestic issue. Taneja failed to appear for that hearing, police said.
Police say investigators also developed information that indicated Taneja and his current wife, Raminder Kaur, age 63, were both in Montgomery County on Oct. 11 and Oct. 12. Further investigation revealed that Taneja and Kaur had purchased two firearms in Nashville on Sept. 28, police said. Based on these facts, and other information, arrest warrants were issued for Taneja and Kaur for First Degree Murder and Conspiracy to commit First Degree Murder.
On Oct. 13, Montgomery County police homicide detectives traveled to Nashville and, with the assistance of detectives from the Metropolitan Nashville Police Department Homicide Unit, located and arrested Taneja and Kaur. Both have been charged as Fugitives from Justice in Nashville and are currently incarcerated in Tennessee.
Taneja and Kaur, both of the 400 block of Brooksboro Terrace in Nashville, are awaiting extradition to Montgomery County.
Police have released mugshots of the suspects. See below: