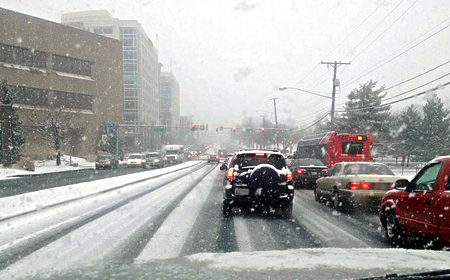 Ready-Set-Panic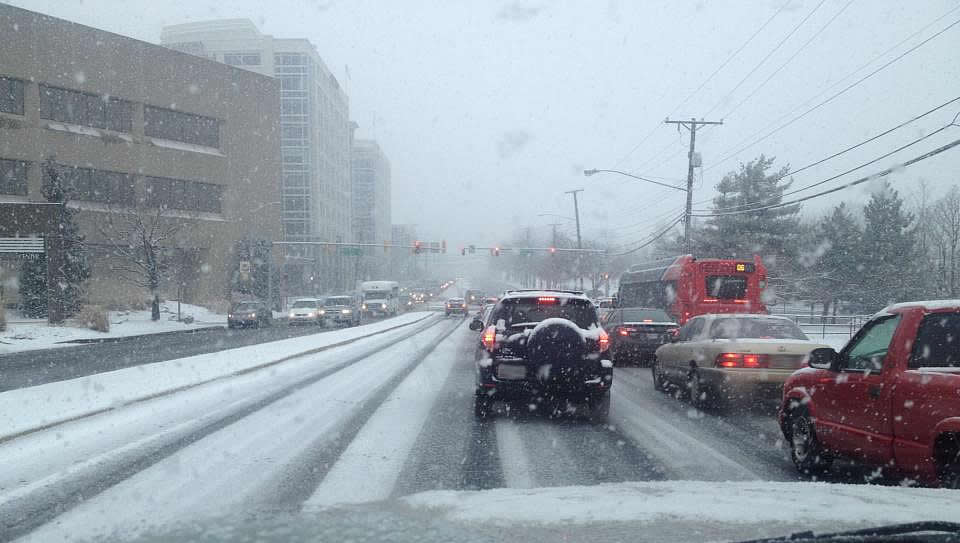 In case you missed it, the world stopped spinning yesterday at noon. Then, all of its inhabitants scurried to find signs of life.
In their cars.
OMG, so many cars.
Every jurisdiction begged us to stay off the roads to facilitate pretreating. But there was panic to be dealt with. If misery loves company, then panic feeds off it like a piranha. I mean how else can you really assess what supplies you need until you look at someone else's cart at Safeway?
Speaking of Safeway, a gentleman was hogging up the intercom with water rationing recommendations. It was math so I stopped listening but by the looks of the zillions of cases of water making their way out of the store, that guy is getting a raise. Genius.
I didn't want to muck up his spiel with logic. Like the fact that water was going to be plentiful really, really soon. In case he had missed it, water was our enemy during Snowzilla16. We were free to drink up whatever the dog hadn't visited. Amiright?
Stocked with our cases of water, or in my case Miller Lite, the masses then had the blizzard version of the last supper. We broke bread and bowed our heads in thanks for this one last chance at consumerism.
The moms were savoring the treat of a meal prepared by someone else. We nodded in solidarity as we snaked through the line to place our order at Subway. We were going off to war; assigned to the mess tent for the foreseeable future. That fresh, oven baked Italian six- inch never tasted better—and, of course, we want it toasted.
And then, the first flake fell.
The panic turned to resignation as our fate was sealed. The snow accumulated quickly and was vindication in a way. The TODAY show mocked us for the whole world to see after Wednesday's inch paralyzed the metropolitan area.
Now we could show them that our snow anxiety is indiscriminate. We freak out over an inch, a foot or two feet. Redemption, really.
The boys elected not to shovel last night and wandered around visiting friends which made me fear for the longevity of Stiles Shoveling, Inc. I watched as smaller, smarter kids roamed the streets looking for business.
I was going to wax philosophical about the early worm and day late, dollar short but I decided to just drink beer and eat bad food instead. After all, I'm the only one in the house that knows where all the snacks are hidden. I rationalized that I was a better mom by letting them fail and eating all their snacks to boot.
Life lessons, people.
After throwing out his back earlier in the day, my husband rebounded nicely and shoveled a little hoping to inspire the boys. Of course, he was wielding that shovel wearing Adidas sweatpants and tennis shoes which made me see my children much more clearly.
Is it men? Or is it just my men who don't wear enough clothes in cold weather?
As I sipped my beer, watched my husband and snuggled with the dog and a blanket in the overstuffed chair, I thought maybe this wasn't going to be as bad as I anticipated.
Am I overconfident? We'll see what tomorrow brings….