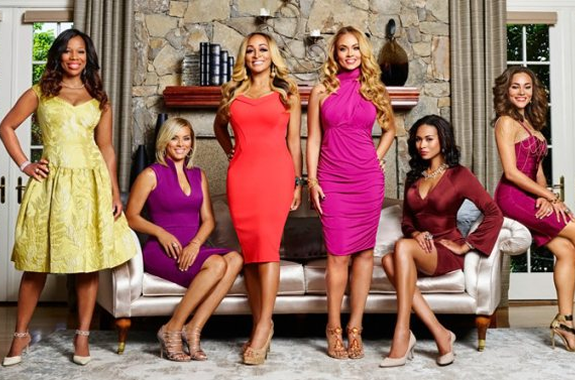 Real Housewives of Potomac: Recap Reunion Part I and II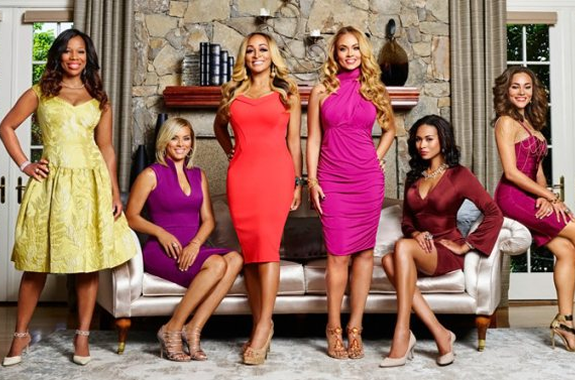 The Real Housewives Reunions are a lot like a therapy session. Andy Cohen's job is to prompt flashbacks and breakthroughs from the crazies all decked out on the couch. The women's sole responsibility is to spew venom, talk over each other and name call for an hour.
The entire show has aired, dirty laundry and all, by the time the reunion filmed and all those confessional shots come back to bite everyone is their well sculpted butts.
Speaking of well sculpted, Katie forgot for a moment that she was in an empty studio and not walking the red carpet. She announced she was wearing Bob Mackie lest anyone assume she stopped by Nordstrom Rack before taping began or picked an old pageant gown from the attic.
That plunging, sequined outfit and extraneous eyeshadow didn't fool Andy. He zeroed in on the lack of sparkle on Katie's finger immediately. Ironically. Katie returned her ring to Andrew on the way to the taping.
The good BRAVO doctor just made me have a breakthrough as well.  After watching the lowlights of Katie's relationship—or campaign as she termed it—with Andrew, it seems I was a little harsh on our pageant girl this season.  But damn if she didn't give me some great material along the way.
Katie has finally figured out what the whole world knew all along–Andrew bogied the engagement and marriage gig making him a subpar long term prospect.  On a strange and unrelated note, we found out Andrew is missing part of a finger which qualifies him for a handicapped placard in Karen's book.
How could I not notice this? I'm slipping.
Katie may have lost a husband but she gained a sharp tongue and used it like a weapon all night. Excuse me Andy, but does this gown make me look bitter?
Because viewers are just like us, one of the first topics from fans addressed crappy kitchens.
Whoomp there it is!
Before Gizelle could defend all that lackluster laminate, Katie's Tourette's kicked in and she shouted something about Gizelle being a gasp, RENTER!
Everyone just side-stepped that statement like roadkill because, realistically, the kitchen screaming for an HGTV intervention is Karen's. The Black Bill Gates (BBG) and the Missus live in a million dollar house with a two hundred dollar kitchen. Karen maintained that her kitchen is her business which would be true if she hadn't brought it into my family room every Sunday causing me trauma.
Sensing her faulty logic Karen resorted to yelling rhetorical questions about whether the general public could afford her 10k monthly mortgage.
Tourets is contagious, obvi.
Ashley tamed her poodle mane into a sleek 1940's do because she is a restaurateur now and must be taken seriously. Her big revelation? The restaurant business is hard, y'all. Dr. Andy doesn't consider this a breakthrough and business shames her by waving his cards around saying it's "like the most difficult thing ever."
Said the man with the easiest job EVER.
Back on the couch, the poor editors (who should write a tell-all btw) had to use subtitles to decipher the interruptions and yelling. Between close captioning and bleeping out expletives, it was hard to follow.
God I love the Housewives.
After a lively and ironic debate regarding the definition of the word narcissist, the ladies rehashed all the major brawls of the season including Buttgate and the Aussie invasion of girl's weekend.
The BBG and Crocodile Dundee (CD) did a little cameo and sat behind their wives like second class citizens. Mostly because, you know, in Housewives world, they are.
CD informed us that butt grabbing is all the rage in the Outback and that the BBG just doesn't get out enough to know that. Is that in the travel brochure?
But the RHOPo topic that traveled week to week was race. These ladies dragged race into every episode then gave it a total smack down like Hulk Hogan in the ring.  There were constant cat fights over being black or white or mixed or pretending to be something or not pretending to be anything.
Newsflash Potomac ladies, no one cares.
You want to know how I identify?  I identify as a person with minimal entertainment requirements.  Straight up, so keep it light ladies.
Oh wait, Charrisse seriously just told Dr. Andy that she was schizophrenic during taping.  Too many consonants and an absent husband will do that to a girl.  Just moments later, both Ashley and Katie admitted to being bisexuals.  Dr. Andy was on a roll.
See, this is therapy for realzz, people.
Much was revealed over the two episodes, but the one item that stuck out for me was the moment Karen announced she had worked at a Burger King or a Taco Bell or both in her youth. This was Karen's way of proving she is real.
But, the visual of the polyester uniform, drive-through headset and the greasy fryer was all just too much.  This statement trumped sexual orientation and race relations; now that is a breakthrough. The Queen Bee had once been a mere commoner encouraging people to have a burger their way.
Everybody sing along, "hold the pickle, hold the lettuce, special orders don't upset us.."
As per the Housewives formula, the reunion ended in a toast.  This is when all the women pretend they haven't been in a dog fight for the entire 6-hour taping and vow to be friends and empower each other. At least until they begin filming again.
For me, I will have to find some other form of reality television to serve as therapy for my RHOPo withdrawals.  Fortunately, BRAVO is well equipped to assist me there.
See you next season.