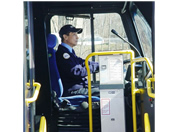 Ride On Bus Info in "Real Time" (Video)
Montgomery County has launched "Ride On Real Time." This new tool allows passengers to obtain real time information on bus arrivals online, with iPhone and Android apps, or by text. The Department of Transportation's Tom Pogue provides the details in this video. For more information on using the tool go to, RideOnBus.com .
Visit our PEG partner County Cable Montgomery to view more of its local programming.