Ride On Tests Turn Warning System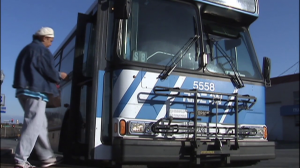 The Montgomery County Department of Transportation's (MCDOT) Ride On bus system is testing a turn warning alert that notifies pedestrians of a turning vehicle. When a bus operator turns the steering wheel 45 degrees in either direction, an audible warning is heard outside of the bus in the direction of the turn announcing that the bus is turning. Ride On is conducting a pilot project with four buses.
"Ride On's top priority is ensuring the safety of our passengers and the public, and the turn warning system is another tool we can use to achieve this goal as I expand the use of technology to enhance and improve performance throughout MCDOT," said MCDOT Acting Director Al Roshdieh. "Distracted walking has been implicated nationwide as one cause of pedestrian collisions and we hope these alerts will not only make pedestrians more aware of our buses, but will also serve as a reminder to drivers to double check for pedestrians when they are turning."
The warning devices have an optical sensor installed inside the steering column that is triggered when the vehicle turns. The volume of the warning can be adjusted. The system is manufactured by Clever Devices.
Information on Ride On's routes and schedules is available online.