Rockville Mayor Newton Visits Ingleside at King Farm
Rockville Mayor Bridget Newton visited Ingleside at King Farm last week to meet with residents, answer questions, and speak about her vision for the future of Maryland's third largest city. Fresh from the 27th Annual Rockville Public Safety Awards, Newton said she was feeling inspired about the place she has called home since 1981.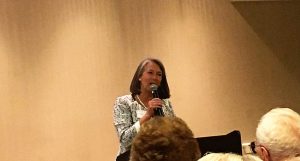 Newton elaborated on what she believes sets Rockville apart – specifically how the city is truly the best place to raise a family. Newton stated that her kids went to school with children from a spectrum of financial and cultural backgrounds, exposing them to many different ways of life. She noted that Rockville has hiking and biking trails, is aesthetically pleasing and safe – making it, truly, a "small town in a big city."
To illustrate her point, Newton noted that Rockville was voted by Livability.com as the number one "Best Place to Raise a Family" in 2016. Criteria for the award included number of parks, crime rate, graduation rate, and walkability.
While Rockville may be great – and we here at Ingleside at King Farm know it is! – Newton said the city is not resting on its laurels. She has a personal vision for the city center, including tunneling 355, or Rockville Pike, near the Rockville Metro station and making that entire area a village green with open space for concerts and a farmer's market. The Mayor said she is also focused on making Rockville more walkable and increasing the number of mixed-income communities in the city, pointing out that it is Rockville's diversity that makes it special.
Her big dream? Wooing Marriott International, as the Fortune 500 company has plans to move out of their current Bethesda headquarters, to a location that is Metro-accessible.
"Why would they come to Rockville?" asked an Ingleside at King Farm resident at the forum.
"Because we offer a city like no other – every Marriott employee could afford to live in Rockville, we are within walking distance of the Metro, and, importantly, we're growing."