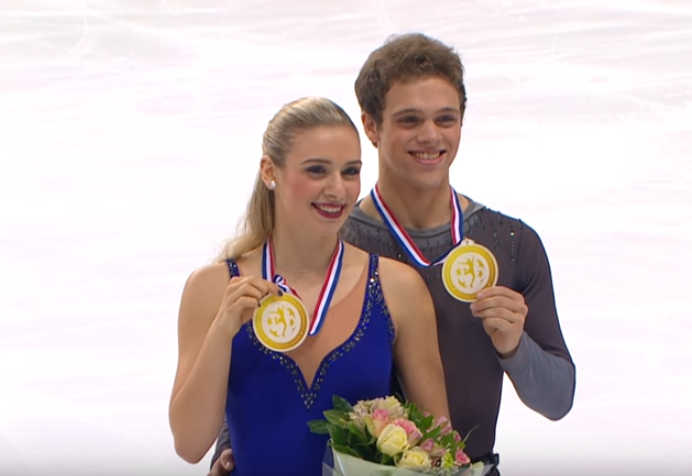 Rockville Natives Win Gold at Junior Grand Prix of Figure Skating (VIDEOS & PHOTO)
Rockville natives Rachel Parsons and Michaels Parsons have won gold in the at the 2016 Junior Grand Prix of Figure Skating, in Marseille, France.
According to a news release the Grand Prix Final is one of the top international figure skating competitions of the year, featuring the top six competitors from each of the four disciplines (Men, Ladies, Ice Dance and Pairs).
The Parsons siblings represent the Washington Figure Skating Club and Team USA, and are the current World and U.S. silver medalists. This is their third trip to the JGP Final and their first Junior Grand Prix Final title. Rachel and Michael qualified for the JGP Final with Gold-medal performances at two previous JGP events in Yokohama, Japan, and Dresden, Germany. Both skaters are graduates of Zadock Magruder High School. Rachel, age 19, and Michael, age 21, are expected to be strong contenders for both the U.S. and World Junior titles in 2017, having won the silver medal in both competitions last year, the news release stated.
"This is a great moment for US figure skating and our local Wheaton Ice Skating Academy, and is the second time in two years Maryland skaters have brought home two of the three medals from this prestigious international event," Richard Parsons, father of two of the skaters, said. Last year McNamara/Carpenter won Gold and Parsons/Parsons won bronze. This year their positions were switched, with the top Russian Junior team of Loboda [and] Drozd winning the Silver Medal both years. All three teams will move up to the Senior division next season, after the 2017 World Junior Championships in March.
The Parsons' training mates, Lorraine McNamara and  Quinn Carpenter, from Germantown and Silver Spring respectively, are the defending World and U.S. Junior Champions. They also won the bronze medal at the JGP Final this year with two strong performances of their own. These two Maryland ice dance teams brought home the only U.S. medals from the JGP Final this year. The Silver medal was won by Russian ice dancers Alla Loboda and  Pavel Drozd. A third American team, Christina Carreira and  Anthony Ponomarenko, finished fourth. You van view the complete results, here.
America's Rachel Parsons and Michael Parsons claimed the ice dance title at the Junior Grand Prix Final this afternoon. pic.twitter.com/r020IQA6JK

— IFS Magazine (@ifsmagazine) December 10, 2016
Rachel Parsons/Michael Parsons capture Junior Ice Dance gold.

https://t.co/zYJYkHnLJz pic.twitter.com/7kA6K5uxrW

— ISU Figure Skating (@ISU_Figure) December 10, 2016
The Parsons, @ray_sk8er and @michaelap95, win the gold! #JGPFinal pic.twitter.com/uVELW5B7yK

— icenetwork (@icenetwork) December 9, 2016