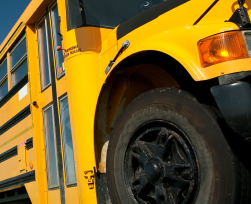 School Bus Leak Slows Traffic on I-270 at Montrose Road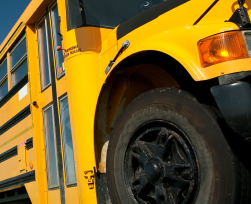 Local authorities report that two right lanes of I-270 at Montrose Road were closed this afternoon because of a school bus in need of repairs.
MCPS Spokesperson Gboyinde Onijala said two school buses with students aboard were headed to Goshen Elementary School from a field trip at Strathmore this afternoon when one of the drivers discovered an antifreeze leak.
According to Onijala, the students were sheltered in place on the second bus while a replacement bus was dispatched to pick them up. She said no students were injured and the students are now headed back to school.
Traffic advisory – NB I270 Near Montrose Rd. all lanes open

— Pete Piringer (@mcfrsPIO) November 18, 2015
More…. NB I270, several student passengers evaluated, no injuries, no transports, all transferred to another bus pic.twitter.com/cofLb654fT

— Pete Piringer (@mcfrsPIO) November 18, 2015
Update – NB I270 – 2 busses from Goshen ES on field trip, 1 bus w/ mechanical issue & broken coolant line, pic.twitter.com/PmRq2ud4F8

— Pete Piringer (@mcfrsPIO) November 18, 2015
Fire department activity closes two right lanes of I-270 North at Exit 4 for Montrose Rd. Expect delays. Seek alternate route. #MdTraffic

— MC Emergency Mgt (@ReadyMontgomery) November 18, 2015
Update – I270 btwn spur & Montrose Rd, school bus w/ broken radiator line, EMS evaluating several elementary school-aged children, NLT inj — Pete Piringer (@mcfrsPIO) November 18, 2015
Update – I270 near Montrose Rd, several fire/rescue/EMS units on scene, EMS evaluating at least 12 passengers, NLT inj, some lanes Blocked

— Pete Piringer (@mcfrsPIO) November 18, 2015
Traffic Advisory (2p) NB I270 near Montrose Rd, schools w/ mechanical issue, (broken coolant line) w/ possible exposure, EMS evaluating — Pete Piringer (@mcfrsPIO) November 18, 2015