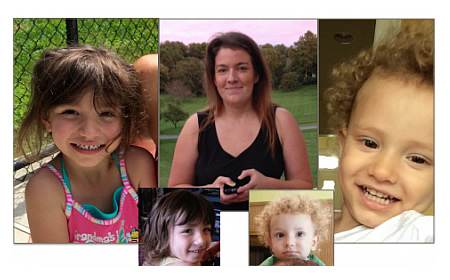 Search for Hoggle Children Continues, Mother Expected in Court on Monday (PHOTOS)
UPDATED Sept. 14, 9:28 p.m. In an update released Sunday night, Montgomery County police said the search for Sarah and Jacob Hoggle will continue on Monday with search teams and K-9s. The missing siblings have not been located. Police said eight different areas of Darnestown were searched on Sunday and no evidence was recovered. Their mother, Catherine Hoggle, is expected in court for bond review at 1 p.m. on Monday. Also on Monday, police said they will hold a news conference to share more information about the status of the investigation. Anyone with information about the whereabouts of the children is asked to call 9-1-1.
NEW: PRESS CONFERENCE planned for 11:00 a.m. tomorrow, Mon 9/15. Captain Francke, Director of Major Crimes Division, will speak (cont).

— Montgomery Co Police (@mcpnews) September 15, 2014
Searches will continue tomorrow & will be conducted by MCP search teams and K-9s.

— Montgomery Co Police (@mcpnews) September 15, 2014
Catherine Hoggle will have bond review tomorrow at 1:00 p.m. in Rockville District Court.

— Montgomery Co Police (@mcpnews) September 15, 2014

ORIGINAL POST Montgomery County Police have set up a command post at Darnestown Elementary today as officers continue their around-the-clock search for Jacob and Sarah Hoggle.
Lt. Sonia Pruitt said officers are searching several locations in Darnestown because they believe Darnestown is an area that the children's mother, Catherine Hoggle, visited while she was missing.
"We have 24 officers and eight K9 teams," Pruitt said.
Police have not released any information about what – if anything- they have found in their search.
According to Pruitt, police are asking the public to look in their own backyards and places they frequent for the children.
"If the public feels like they see Jacob or Sarah it is okay to call 9-1-1. This is a priority for us," said Pruitt.
The public is asked to stay out of any wooded areas, Pruitt said, where the police dogs may be searching.Pruitt said the police officers' mobile command post has "everything they need to strategize and organize and put together a search plan."
As for Hoggle, Pruitt confirmed the Clarksburg mom has an attorney now. Police questioned Hoggle on Saturday but police said she would not tell them the whereabouts of her children. Police have charged Hoggle with child neglect, obstruction and hindering. She remains in the Montgomery County jail awaiting a court hearing scheduled for Monday.
TODAY: police teams will search approx. 8 areas in Darnestown area. Catherine Hoggle has not provided any info. on children's whereabouts.

— Montgomery Co Police (@mcpnews) September 14, 2014