Second Student Allegedly Had Inappropriate Contact with Contractor at Baker
A second student in Damascus is alleging she had inappropriate contact with a contractor while at John T. Baker Middle School earlier this month.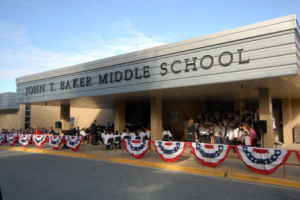 According to Montgomery County Public Schools Spokeswoman Gboyinde Onijala, "A student from Damascus High School that was at Baker Middle School on or about the same day as the other incident has reported a similar allegation."
Montgomery County Police would not confirm that the allegation was related to the arrest of John Edward Epps, Jr. of Fort Washington, who was charged recently with  fourth-degree sex offense and second-degree sex offense. In that Oct. 6 incident Epps allegedly grabbed the buttocks of a 12-year-old Baker Middle School student in early October.
But, Damascus Principal Jenn Webster sent home a letter  to Damascus High School students on Nov. 5 about the allegation. It says, "As part of the ongoing investigation, we have learned that the contract employee may have had inappropriate contact with a Damascus High School student who was at Baker Middle School for a school-related activity."
Montgomery County Police Cpl. Rebecca Innocenti confirmed that police have interviewed the female student who was referred to in Webster's letter.
"That investigation is ongoing in terms of what she experienced and whether it is a crime," Innocenti told MyMCMedia Friday.
According to charging documents, a 12-year-old student was walking to class in the hallway of school and Epps, Jr. of Fort Washington was in the hallway walking in the opposite direction. The report claims that as Epps passed the student , he reached out with his left hand and made an "unsolicited and unwanted touching of the left buttocks of the juvenile victim." According to the report the student, "turned around in shock and observed the suspect hurrying away up a staircase of the school."
Onijala said that Epps worked in 58 MCPS schools. And, she said letters were sent home to the parents of students in those schools alerting them to the incident at Baker Middle School.
According to Montgomery County Public Schools spokesman Dana Tofig, Epps was a contractor hired by Netcom, Inc. through a temporary agency. Onijala told MyMCMedia Friday that Epps has been fired by Netcom, Inc. and "will not be working at any MCPS sites."
You can read the letter from Damascus Principal Jenn Webster below-
Related: