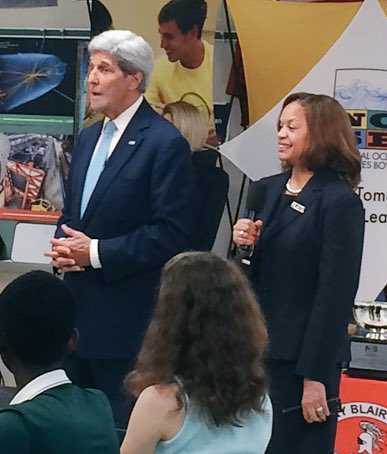 Secretary of State John Kerry Meets with Science Bowl Winners at Blair High School (PHOTOS)
U.S. Secretary of State John Kerry met with Chesapeake Bay Regional Champions of the Ocean Science Bowl and National Science Bowl winners on Wednesday at Montgomery Blair High School in Silver Spring.
The event was hosted by the U.S. State Department  and Discovery Education to discuss ocean protection and environmental issues.
According to a news release, Secretary Kerry was joined by Under Secretary for Economic Growth, Energy, and Environment Catherine Novelli; Science and Technology Adviser to the Secretary Vaughn Turekian, and Marcia McNutt, a marine geophysicist and president-elect of the National Academy of Sciences.
To view the transcript from the discussion, visit the State Departments website.
.@blairprincipal thanks Sec. Kerry for visiting & sharing his passion 4 preserving our oceans w/ students #ourocean pic.twitter.com/fe1XfXhwSm

— MCPS (@MCPS) June 1, 2016
Sec. Kerry calls on young people to get involved, get active, raise awareness and help clean our oceans and beaches. pic.twitter.com/ytFxWUU4hA

— MCPS (@MCPS) June 1, 2016
"How can we educate the public to save the #oceans?" –@mcps student to @SecKerry @DiscoveryEd pic.twitter.com/Yorn5KohFb

— Jill Ortman-Fouse (@jill4allkids) June 1, 2016
"It's great to meet the National Science Bowl champions!" Secretary of State John Kerry pic.twitter.com/JYP5FGMIq5

— MCPS (@MCPS) June 1, 2016
.@SecKerry here to congratulate winners of Nat'l Science Bowl & meet Blair students! #Oceans @blairprincipal pic.twitter.com/SqBf5ICLpt

— Jill Ortman-Fouse (@jill4allkids) June 1, 2016
Stay tuned 4 an @DiscoveryEd virtual event w @JohnKerry & students from @blairprincipal school n Sept #OurOcean@MCPS pic.twitter.com/7KTj512PW5

— a alvez (@AggieAlvez) June 1, 2016