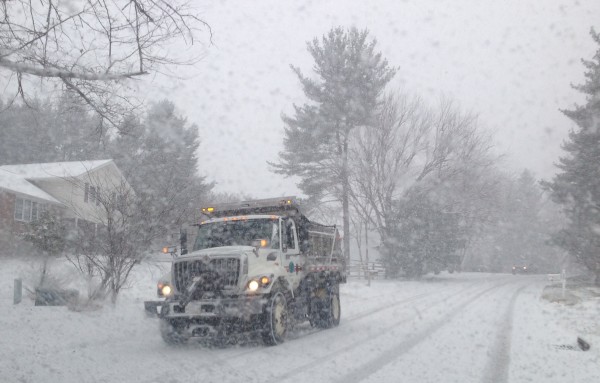 SHA Asking Motorists to Delay Travel
From the Emergency Operations Center, the Maryland State Highway Administration is monitoring and managing storm response throughout the State. Heavy bands of snow are bringing several inches of accumulating snow through the Baltimore and Washington metro areas, with higher accumulations north and west.
More than 2,000 trucks are plowing and applying salt to the State's numbered routes. Drivers are encouraged to refrain from driving as freezing conditions persist and bands of freezing rain and sleet make their way into Maryland.
Many counties now have snow emergency plans in effect: Allegany, Anne Arundel, Baltimore, Caroline, Carroll, Cecil, Frederick, Garrett, Harford, Howard, Montgomery and Washington. Disabled vehicles and crashes continue to plaque roadways throughout the State – for a complete listing of current incidents visit md511.org or chart.state.md.us.
"At this time, we're asking drivers to delay travel," said SHA Administrator Melinda B. Peters. "Weather sources continue to forecast freezing rain and potential ice accumulation later in the afternoon and early evening. SHA forces will continue to work into the evening and throughout the night."
In addition to plows and dump trucks, additional emergency traffic patrols are on duty to assist disabled vehicles and manage roadway incidents. Additionally heavy duty tow trucks are positioned around the State to assist disabled heavy trucks.
If you must travel, slow down, use caution, allow plenty of distance between vehicles, use snow tires and allow plenty of time for travel. Remember to give plenty of following distance when traveling behind snow plows and slow down – posted speed limits are for ideal weather conditions.
Ramps, bridges and overpasses freeze first, so drivers should remain on guard at all times. If your vehicle does become disabled, make every effort to move from the travel lane and onto the shoulder. Remain alert for inactive traffic signals as a result of power outages. Use EXTREME caution and treat it is as a four-way stop – it's the law.