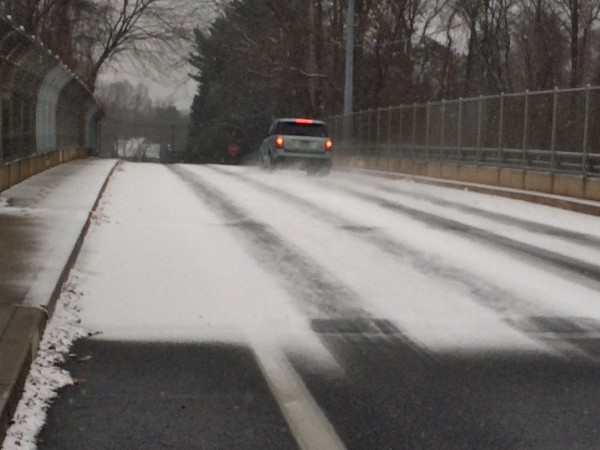 SHA Urges Caution in Afternoon Rush Hour
As the Maryland State Highway Administration (SHA) goes to battle with yet another round of wintry weather, SHA reminds travelers to exercise caution and plan for extra travel time.
Depending on your location, afternoon commutes will include fog, rain, snow and sleet. Drivers are encouraged to avoid nighttime travel as re-freezing is likely.
Emergency response crews are working statewide plowing and applying salt as needed. Conditions can vary dramatically around the State based on location as temperatures hover above freezing along the rain/snow line. The greatest snow accumulation is occurring in the northern and western counties, with Allegany reporting more than 7.5 inches of snow.
"Now is the ideal time to plan for the evening commute. As precipitation ends, SHA crews will continue to plow and salt roadways and focus on preventing re-freeze," SHA Administrator Melinda B. Peters. "We expect temperatures to reach below the freezing mark this evening, so we must remind drivers to use extra caution and plan for extra travel time."
Temperatures will be falling this afternoon and tonight creating the possibility for icy conditions both tonight and during the morning rush hour. Motorists should plan to curtail travel if possible.
Additionally, SHA is continuing to battle potholes that are forming due to the freeze/thaw cycle and significant precipitation. With visibility decreased, SHA reminds drivers to be on guard for mobile work zones as crews patch potholes. Workers will be physically out of their vehicles, so be sure to slow down and stay alert when seeing the yellow beacons on trucks.
Be sure to keep these additional driving tips in mind:
Ramps, bridges and overpasses are three to five degrees colder than non-elevated surfaces and will freeze first, so drivers should remain on guard at all times.
During snow and ice storms, there may be power outages that disable traffic signals. If drivers encounter a traffic signal without power, State law requires ALL traffic to stop and treat the intersection as a four-way stop.
Clean off your vehicle for your safety and visibility, as well as for other drivers.
Remember – Wipers on? Headlights on! It's the law.
Use caution when merging at ramps and intersections, especially in areas with a history of flooding; do not to drive through standing water.
If your vehicle does become disabled, make every effort to move safely from the travel lane and onto the shoulder.
Plan your route in advance by using "511 Traveler Information" system. Know Before You Go! Dial 511 from a land line or mobile phone for traffic, weather alerts and road conditions. For internet access, visit www.MD511.org.
The latest traffic information is available by calling 5-1-1 from a hands-free device or go towww.md511.org and following SHA on Facebook and Twitter for road updates.