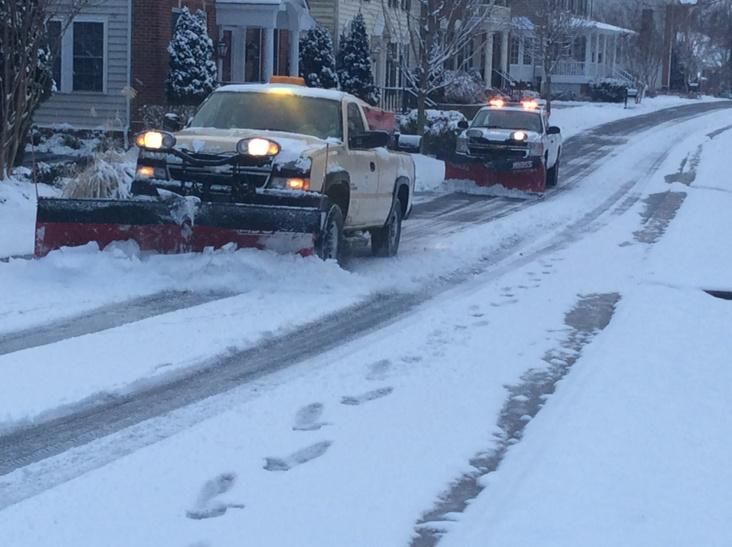 Snow Day Live Blog
UPDATED 12:39 p.m. The Department of Transportation's Highway Services has deactivated its Storm Operations Center as of noon. Crews remain in the field as necessary.
#DOTHighwayServices will deactivate the #StormOperationsCenter at noon today. Crews will remain in the field to treat as necessary.

— MC Highway Services (@MontCo_Highways) January 27, 2015

UPDATED 11:28 a.m. Waring Station Road at Clopper Road is now open.
Update: Waring Station Rd. at Clopper Rd. is open in #Germantown. Utility work completed.

— Montgomery Co Police (@mcpnews) January 27, 2015
UPDATED 9:30 a.m. All county recreation programs are canceled and senior centers are closed.
All Recreation programs/activities cancelled. Community centers/pools open for drop in activities only. Senior Centers are closed.

— Montgomery County MD (@MontgomeryCoMD) January 27, 2015
UPDATED 8:57 a.m. Drive safely. Montgomery County fire and rescue crews are responding to several crashes around the county at this hour, including an overturned vehicle on River Road.
Update – River Rd overturned vehicle between Petit's Way & Maidens Bower Dr, 1 of 2 Lanes BLOCKED, PD directing http://t.co/VTfuaVPPA3

— Pete Piringer (@mcfrsPIO) January 27, 2015
UPDATED 8:54 a.m. Montgomery Parks crew is clearing the Capital Crescent Trail (CCT).
#CCTSnow clearing in progress! #CCT pic.twitter.com/BreGW2QzyX — Montgomery Parks (@MontgomeryParks) January 27, 2015
UPDATED 8:53 a.m. Department of Transportation Highway Services reports that Waring Station Road is closed between Wisteria Drive and Clopper Road because of a crash.
#DOTHighwayServices is reporting that Waring Station Rd closed between Wisteria Dr and Clopper Rd due to a crash. #snow #traffic

— MC Highway Services (@MontCo_Highways) January 27, 2015
ORIGINAL POST Montgomery County Public Schools are closed today, Jan. 27 and Montgomery County government offices are opening at 10 a.m.
Department of Transportation highway crews report that all primary and secondary roads have been plowed or treated. Work on residential roads is also underway. If your county road needs plowed, call 311 in Montgomery County.
State Highway Administration (SHA) crews are monitoring roads and applying treatment as needed.
The city of Gaithersburg has announced that the Aquatic Center, Senior Center, Community Museum and Youth Centers are closed today.
City of Rockville offices are opening at 10 a.m. today as well.
Many Montgomery Parks facilities are opening at 10 a.m. today. The Cabin John Ice Rink and the Pauline Betz Addie Tennis Center are opening on time. For the latest Parks info: visit www.MontgomeryParks.org/weather.
Show us your #MoCo snow. Send your photos and video to pix@mymcmedia.org or Tweet your images to @MyMCMedia.
Pike & Rose courtyard, Pike District, w/ >2″ snow, #mcfrs FFs in Germantown report >4-5″ of snow w/Temps 20s pic.twitter.com/p0Rpb831TZ — Pete Piringer (@mcfrsPIO) January 27, 2015
#Rockville City offices will open at 10:00 a.m. today, January 27. Essential employees should report to work as scheduled.

— City of Rockville (@Rockville411) January 27, 2015
Many @MontgomeryParks facilities opening at 10AM today. CJ Ice & Pauline Betz Addie Tennis opening on time. Updates: http://t.co/OszQoE2aXb — Montgomery Parks (@MontgomeryParks) January 27, 2015
Aquatic Center, Senior Center, Comm. Museum, Youth Centers closed. Morning/afternoon activities/classes cancelled.

— City of Gaithersburg (@GburgMD) January 27, 2015
Mont. Co. government & facilities will open at 10 AM today. 311 Call Center open and taking calls. Call 311 or 240-777-0311. — Montgomery County MD (@MontgomeryCoMD) January 27, 2015
Montgomery County Government opening two hours late at 10 a.m. Essential personnel report at regular time. http://t.co/BkMjGdyVcQ

— Montgomery County MD (@MontgomeryCoMD) January 27, 2015
#DOTHighwayServices has treated or plowed all major primary/secondary roads. Treatment of residential roads well underway. Work continues. — MC Highway Services (@MontCo_Highways) January 27, 2015
Crews are monitoring roads and applying chemicals as needed. Drive carefully this morning and please give our trucks plenty of space! -hk

— MD State Highway Adm (@MDSHA) January 27, 2015
MCPS Schools are CLOSED on Tuesday, Jan. 27. Administrative offices will open two hours late. Day cares in schools may open at 9 a.m. — MCPS (@MCPS) January 27, 2015
UPDATE: Day cares in schools may open at 10:30 a.m.

— MCPS (@MCPS) January 27, 2015