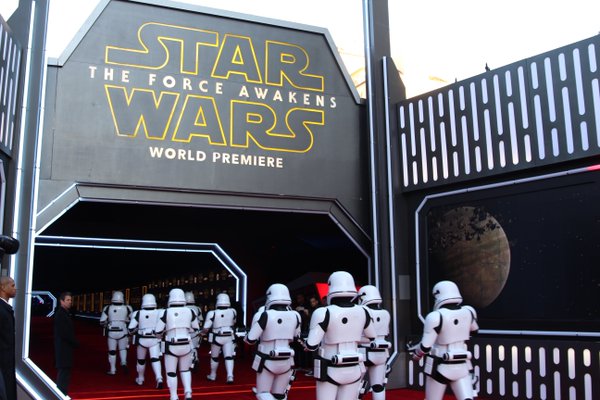 "Star Wars" Fans May Face Costume Restrictions at Theaters (PHOTOS)
The week is finally here, "Star Wars: The Force Awakens" will premiere in theaters on Dec. 18th, and while traditionally fans have celebrated the occasion by dressing up in costumes, movie goers may have to leave their Darth Vader mask at home this time around.
National movie chains have issued restrictions regarding costumes and accessories. AMC Lowes issued the following dress code warning on its website:
"AMC does not permit weapons or items that would make other guests feel uncomfortable or detract from the movie-going experience. Guests are welcome to come dressed in costume, but we do not permit masks or face paint. In short, bring your light saber, turn it off during the movie, and leave the blaster and Darth Vader mask at home."
Arclight Cinemas have also posted costume guidelines on its website.
"We do not allow masks (including face paint) that cover the face and/or props, including those that illuminated, that would be a safety or trip hazard."
Paragon Theaters also has general costume restrictions in place.
"Paragon Theaters welcomes guests to attend movies dressed in costumes, but does not allow weapons or other accessories that may make guests uncomfortable or cause a distraction. We also ask that you leave the masks at home."
So, if you were planning an elaborate Storm Trooper costume to mark the occasion, you may need to rethink your outfit choice.