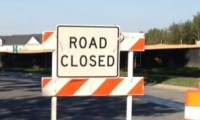 UPDATED Storm Damage Cleanup Continues
The county's Department of Transportation's highway services crews were activated last night to respond to storm damage across the county and crews continue to clear downed trees and limbs today.
According to a county official, the strong storms included heavy rains and wind gusts of up to 45 mph that left high water and storm debris on several roadways.
Spokesperson Esther Bowring said most of the storm damage was isolated to the northern and western portions of the county. According to Bowring, crews responded to 25 locations where trees were blocking the roadway. She emphasized that did not include other locations where crews were called to clean up debris in the right of way, etc.
"They will be busy today," said Bowring.
She said four roads were closed this morning because of downed trees and power lines. The locations of those road closures are listed below:
–19300 Jerusalem Road
–21300 Martinsburg Road
–7600 Rocky Road
–24401 Kakae Drive
By late afternoon only one road remained closed as crews were removing wires. The road was expected to reopen late today.
Pepco online outage maps indicated over 1,100 customers remain without power in Montgomery County as of 9:15 a.m., today, that number was down to 133 customers six hours later.
MCDOT crews continue to clear storm debris. Only 7600 Rocky Road remains closed: should reopen this pm as utility is onsite removing wires.

— MCDOT (@MCDOTNow) June 24, 2015
From Alert Montgomery: Woodfield Rd (MD 124) is closed at the intersection of Rocky Rd due to a downed tree in the roadway.

— MCDOT (@MCDOTNow) June 24, 2015
4 roads remain closed due to downed trees or power lines: 19300 Jerusalem Road, 21300 Martinsburg Road, 7600 Rocky Road, 24401 Kakae Drive

— MCDOT (@MCDOTNow) June 24, 2015