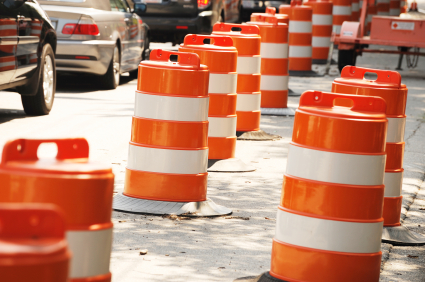 ICC Shoulder Closures
Motorists driving on the Intercounty Connector (ICC)/MD 200 between Norbeck Road (MD 28) and New Hampshire Avenue (MD 650) should stay alert for shoulder closures beginning this week as construction crews start work on three bridges that carry traffic over the ICC.  Weather permitting; the work should be complete this winter.
The shoulder closures will keep crews safe as they perform long-term modifications to three bridges: Longmead Crossing Drive, Layhill Road (MD 182) and Notley Road.  During this construction activity the three bridges will remain open to traffic, with minimal impact to drivers. Motorists should be alert for temporary traffic signs, traffic barrels, cones, crash cushions, and the concrete barriers that will be used to designate the shoulder closures.
Crews will insert steel rods through holes drilled in the bridge pier caps (top portion of bridge), tighten the rods for tensioning, install a grout material around the rods to seal the holes and secure the ends with steel plates.  Crews will cover the plates with concrete to restore the bridge appearance.
The work on the bridges is necessary to improve the durability of the pier caps, which were designed with less internal steel than needed. The issue was identified when State Highway Administration (SHA) contractors found premature cracks on three of the bridges.  An engineering analysis found that the pier caps need more steel to handle the wear and tear of traffic.   The installation of the steel rods will help to ensure the long-term durability of the bridges to their anticipated 50-75 year "life span."  The state is not responsible for the cost of any modifications.
While transportation partners work hard to maintain safe traffic mobility in work zones, each driver needs to actively modify his or her driving style to help prevent crashes. Stay alert – look for reduced speed limits, narrow driving lanes and highway workers. Slow down and don't follow too closely. Safer Driving. Safer Work Zones. For Everyone!
Maryland now features FREE 511 traveler information! Call 511 or 1-855-GOMD511 or visit www.md511.org  for current travel information. Sign up to personalize travel route information through MY511 on the website. Remember to use 511 safely – Maryland law prohibits hand-held mobile phone use and texting while driving.