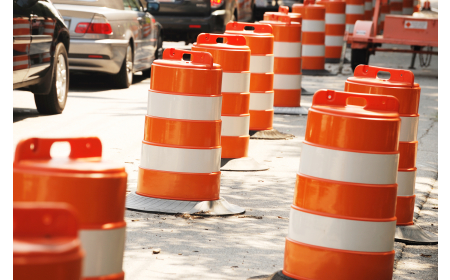 Street Beat: Georgia Avenue Road Work
Beginning Monday night, November 18 (weather permitting), State Highway Administration (SHA) crews will start the first of several weeks of nighttime road resurfacing along MD 97 (Georgia Ave.) in downtown Silver Spring.
The work is part of an ongoing $3.6 million safety and resurfacing project on Georgia Avenue between Eastern Avenue and MD 390 (16th Street).  If the weather cooperates, the nighttime patching work should be complete by late December.
To expedite the patching, SHA's contractor is permitted to close lanes on either northbound or southbound MD 97, overnight, Sunday through Thursday, between 9 p.m. and 5 a.m.
The work involves resurfacing nearly 60 locations along the 1.75-mile section of MD 97.  The patching is being done prior to paving along all lanes of traffic within the project next year. SHA is also constructing roadway bus pads during weekends in the area.
"Unfortunately construction equipment can be loud and disruptive," said Brian Young, SHA District 3 Engineer. "Therefore we thank residents and visitors for their patience as the District works to improve road conditions on MD 97 for motorists and public transit users."
Pedestrians and commuters alike should prepare for additional changes in downtown Silver Spring during this project. Pedestrians should prepare to adjust to changes in pedestrian traffic inside work zones along MD 97, including following signs directing them to safe crossings. Because there may be limited street parking in small segments of downtown Silver Spring, commuters should consider using public parking garages, plan for extra time and use alternate routes to avoid construction delays.