Students and Parents to Speak Up at Education Forum in Silver Spring
The Montgomery County Education Forum, a nonprofit that advocates for better policies in the county's educational system, is scheduled to host a community forum where students and parents get to speak up.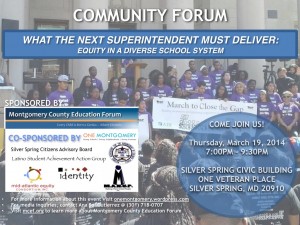 The meeting will be held on March 19 , 7 p.m., at the Silver Spring Civic Building.
According to forum officials, the purpose of the event is to promote community involvement in the selection of the next Montgomery County Public School superintendent.
"I think the new superintendent should work on having more diverse classrooms," said Aidan Keys, senior at Montgomery Blair High School.
Keys is part of a magnet program at Blair and has attended magnet classes in county schools her "whole life." She said she wished all students had the chance to take the "cool" classes she attended.
"I feel like because of the magnets program my school has a really good reputation but also divides the school in a way that I don't really like," Keys said.
According to a press release, during the event students representing M.A.N.U.P, Blair High School, Identity, Inc., and Northwood High School will answer the question "What can MCPS do to help you and your peers be more successful now and in the future?"
The audience will also watch "I, Too, Am BCC"- a video produced by Bethesda-Chevy Chase High School Students that highlights a pattern of racial stereotyping.
"We will hear from students and parents who seldom are invited to sit at the table in Montgomery County, but who have a huge stake in the education MCPS must provide to them," said Ana Sol Gutiérrez, state delegate and MCEF board chair.
According to a press release, parents will participate in a panel to answer "What can MCPS do to value and foster parental and community involvement in school?" where representatives from One Montgomery, Identity, the Latino Student Achievement Action Group (LSAAG), and Blair HS Latino parent group "Los Padres" will share their perspective.
When asked what the new superintendent should bring to the school system Keys added "It would be better if everybody had the same education."
Event: The Montgomery County Education Forum (MCEF) to Host Community Forum on: What the New Superintendent Must Deliver.
Bringing Together Diverse Voices to Express Critical Student and Community Needs for the Next Superintendent of Montgomery County Public Schools (MCPS)
Where and when: One Veteran's Place in Silver Spring, 7 p.m., on March 19.
The event is free and open to the public. For more information, email asolgut@gmail.com.