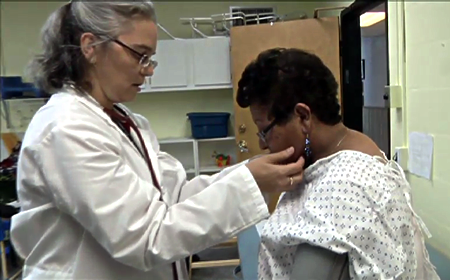 Study Reveals 1 in 7 Latino Adults Has Some Hearing Loss
A Study, by the National Institutes of Health (NIH), found that one in seven Latino adults in the U.S. has some hearing loss. About the same rate as the national average.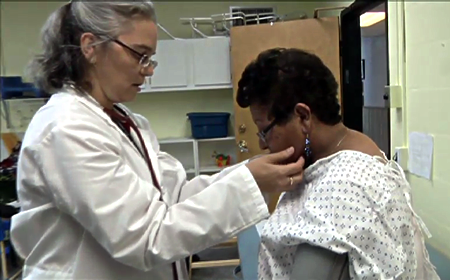 It is the largest study to this date on hearing loss among the Latino adults, according to researchers from the NIH.
According to a news release, the study identified potential risk factors for hearing loss such as age, gender, education level, income, noise exposure, and diabetes. The study was published on May 28 by the JAMA Otolaryngology — Head and Neck Surgery.
"This study collected a much larger sample … This is just the beginning of the analyses," said Howard Hoffman, director of Epidemiology and Statistics Program at National Institute on Deafness and Other Communication Disorders (NIDCD) at NIH and the co-author on the study.
Hoffman said a total of 16,415 people participated, and they divided the population into groups: Cubans, Dominicans, Mexicans, Puerto Ricans, Central Americans, South Americans, others.
Among them, Puerto Ricans were the most affected with more than 21 percent suffering from hearing loss in one ear and more than 12 percent in both ears. Mexicans had about 11 percent hearing loss in one year while six percent suffered in both ears.
The study tested the hearing of people between ages 18-74. The overall results showed that 15.1 percent of all individuals studied had hearing loss in one ear, and approximately eight percent had in both ears.
"Ear infections in childhood, if they are not treated properly, can become a major source of hearing problem," Hoffman said.
According to a news release, a person was considered affected by some hearing loss if they could not hear sounds at 25 decibels- about as loud as the sound of rustling leaves in at least one ear. Participants also listen to different pitches in each ear ranging from low to high.
"Hearing loss can affect a person's overall quality of life, and has been linked to depression and dementia in older adults. This study paints a detailed picture of hearing loss among a large and diverse group of Hispanic/Latino participants, and could help inform the development of intervention strategies to meet the needs of this growing population in the United States," said James F. Battey, director of the NIDCD, which partly supported the work.
Here are some findings according to the study:
Men were 66 percent more likely than women to have hearing loss. Those ages 45–64 years were five times more likely to have hearing loss than the 18- to 44-year-olds.
People exposed to loud noises were roughly 30 percent more likely to have hearing loss.
High school graduates are 30 percent less likely to have hearing loss, and people earning more than $75,000 were 42 percent less likely to be affected by hearing loss than people who earned less than $10,000.
People with diabetes and pre-diabetes had increased odds of hearing loss—57 and 37 percent, respectively.
Authors of the NIH study include: Karen J. Cruickshanks, PhD; Sumitrajit Dhar, PhD; Elizabeth Dinces, MD, MS; Robert C. Fifer, PhD; Franklyn Gonzalez II, MS; Gerardo Heiss, MD, PhD; Howard J. Hoffman, MA; David J. Lee, PhD; Marilyn Newhoff, PhD; Laura Tocci, AuD; Peter Torre III, PhD, MS; Ted S. Tweed, MA