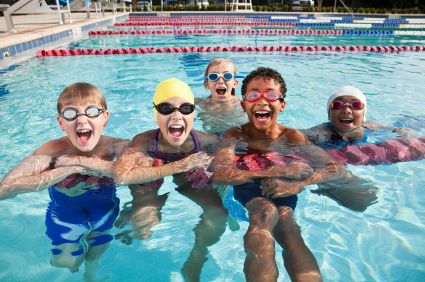 Swim Swag: Frogglez Goggles
Picture it: Early Summer of 2014.  Lots of beautiful beach-going weather, splash park-playtime and of course, anticipation of pool party invitations galore.
This was us last year, and as we prepared for camp countdown, I became more and more anxious about the summer time. Why you ask? Not for the reasons you may think (Kids out of school for 8 weeks eek! smile) My concern was that, with all this water wild awesomeness getting ready to go down, my boys-ages 5 & 7 at the time- wouldn't be able to fully enjoy any of it.
Yep, my kids were non-swimmers.
It'd never been a real issue up until last year when swimming became a non-negotiable for camp and well, friends' parties (who wants to be the kid/s sitting on the pool sidelines?!).  So, I vowed after a campless summer for the boys that I would make sure these guys were swimming by the summer of 2015. Both kiddos started swim lessons fall of 2014, and all was going swimmingly (See what I did there?). Until one night after lessons, my 5-year-old's instructor told me he "definitely NEEDED goggles."  Here's the thing- it really shouldn't be that tragic of a situation to get the kid some goggles, right? Well, for any swim moms out there, we know finding that right pair of goggles can be QUITE frustrating. We'd had a few pairs of goggles during the boys' splash around in the pool days, and when they first started lessons we did try using them. The issue was the daggone things were just so hard to adjust! My son would complain of them being too tight, or too loose. The fit around the eyes was awkward, and the whole encounter was frustrating. But since his instructor said he needed them, we let him use them again for the remainder of lessons.
Fast forward to now, and we're gearing up to begin winter swim lessons in February. Along with rash guards to keep them warm in the pool (brrrr!) we also were able to find some awesome goggles by a brand called Frogglez ®, that I'm sure will work out great for the boys sans all the hassle. They're easily adjustable with a Velcro connection making them a one-size-fits-all for most kids, and made out of wetsuit material avoiding all of the uncomfortability that my youngest was having with the rubber straps on his other goggles. We're looking forward to both boys being swim-ready for this summer! I'm excited about them both being promoted to the next level of swimming and think that they will be even more successful now that they'll have the right gear to keep them going. I've realized that with kids' sports, investing in the right tools is necessary in order for them to reach their greatest potential. The good thing about these particular goggles is that they should last my kids for a while and their potential for losing them is less likely because Frogglez® float in the water!
Swim moms, what are some of your favorite swim swag items?