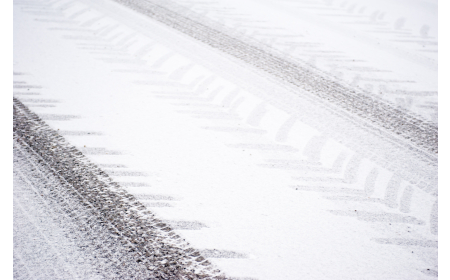 "Take it Slow on Snow and Ice"
The Maryland State Highway Administration (SHA) is reminding motorists to "Take it Slow on Ice and Snow" and drive safely this afternoon as forecasts predict a mix of rain and snow that will affect parts of central and western Maryland. Along with traffic management for the Presidential Inauguration, personnel at the Statewide Operations Center (SOC) are monitoring weather conditions and preparing to salt and plow as needed.
"With a combination of emergency management and maintenance personnel, SHA crews are available to respond rapidly to weather situations," said SHA Administrator Melinda B. Peters. "We ask that all drivers and visitors take their time traveling this afternoon. Slick conditions are possible in central Maryland, along with snow accumulation expected in Allegany, Garrett and Washington counties."
Although traffic is light throughout much of the state due to the Dr. Martin Luther King, Jr. Holiday, motorists are encouraged to drive with extreme caution in snow and ice. As inaugural attendees begin to move out of Washington D.C., there may be periods of heavy regional traffic and in areas of metro station parking lots.
Customers should visit www.md511.org, www.roads.maryland.gov or www.chart.md.gov for traffic-related closures and real-time travel information. Stay up-to-date on SHA projects and programs, follow SHA on Twitter @MDSHA or "like" SHA on Facebook at www.facebook.com/MarylandStateHighwayAdministration.
It is also helpful to remember these tips:
• Know before you go! Call 511 to get the latest traffic information. Drive focused – Maryland law prohibits hand-held mobile phone use and texting while driving.
• Buckle up! It's the law in Maryland and your number one defense in a crash.
• Move over to an adjacent travel lane away from emergency personnel – a new Maryland law requires it.
• Keep a full gas tank and allow extra time for unexpected delays.
• Slow down and pay attention, avoid distractions such as changing CDs and eating. Observe all posted speed limits.
• Never drink and drive! Designate a sober driver.
• Drivers with cellular phones can dial #77 or 911 to report suspected aggressive or drunk drivers.
• In the unfortunate case that you are involved in a minor crash, please safely move your vehicle from the travel lanes. If no injuries, exchange information and move on, no police presence is required.