Technical Problems at 10 Bethesda Voting Precincts Corrected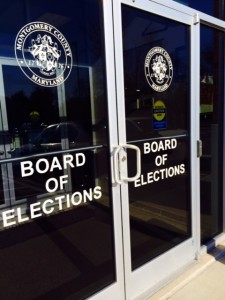 UPDATE: All polling places are using touchscreen voting machines, including those in Bethesda that had not been functioning properly when the polls opened this morning.
The spokesperson for the Montgomery County Board of Elections, Marjorie Roher, confirms there were some technical issues at approximately 10 precincts in the Bethesda area shortly after the polls opened at 7 a.m. on June 24. Those machines, however, are now back in operation, she said.
According to Roher, the encode card to put in the voting machine was not working properly. She said staff has fixed the problem in all but four precincts and those four precincts should be up and running in the next 45 minutes. Roher said no voter was turned away during this issue.
"Anyone could still vote all morning," Roher said, noting that provisional ballots were handed out to voters at the precincts where there was an issue.
She could not say how many voters filled out a provisional ballot. She said that information will be available by midday tomorrow. Paper ballots are counted before certification of the results but will not be included in tonight's election results, Roher said.
"I do ask that if you chose not to vote with a provisional ballot that you come back before the polls close at 8 p.m. If there is a line and you are in that line at 8 p.m. you will be allowed to vote," Roher said.
So far, voter turnout has been fairly low, Roher said. While figures are not available for each poll, Roher said Elections Board members have reported "fairly low turnout" countywide and no lines to vote anywhere.
She noted for comparison sake that in 2006, there was a 27-percent turnout; and in 2010, there was an 18-percent turnout.
As for other issues, she said there was a signage issue at a precinct in mid-County and someone was sent from the Board of Elections office to monitor it. She could not say what precinct and did not have details about the exact signage issue.
The polls are open until 8 p.m. tonight.
#MoCoVote