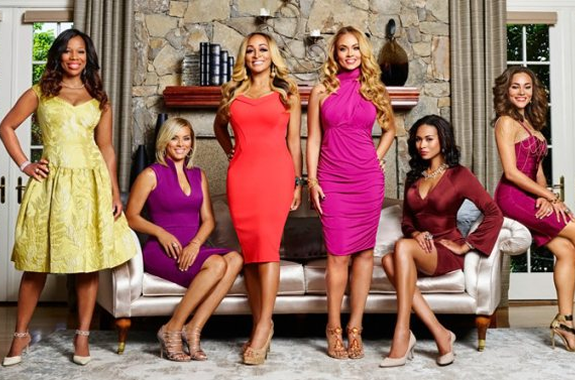 The Real Housewives of Potomac Week 7 Recap: Royal Pains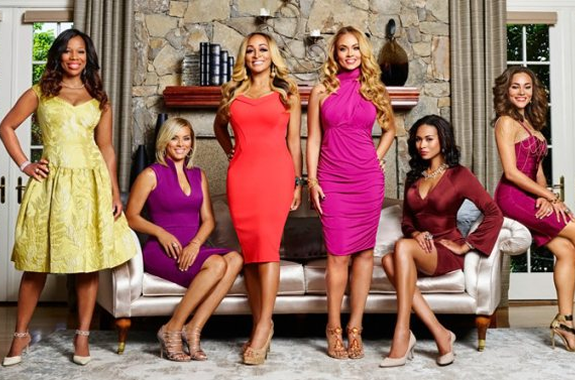 Last week we left the Potomac ladies down the shore, hon'. Like real Maryland girls.
And Week 7 picked up in the middle of the Sister Circle where Charrisse encouraged the women to test the waterproof Maybelline Great Lash and cry the big, ugly cries.
Robyn's Bernie Madoff style tale of friendship and deceit is just what Charrisse had in mind and she nodded and smiled like Oprah encouraging Tom Cruise to just jump on that couch to show you're in love.
Feel all the feels!!
After divulging that a friend swindled her and Juan Dixon out of their savings, Robyn felt vindicated and free at last.
Ashley? Not so much,
We saw a flashback to Ashley's Googling phase in Week 3, when she was all atwitter over an article alleging the Dixon's were nearly bankrupt. Her first ruh-roh moment of the episode had her feeling mighty small over her big news and quaking in her poodle-do because she misjudged Robyn.
Housewife life lesson #463…don't Google and tell.
How relieved Ashley must have been when the hot, white light of sisterdom shifted to Katie, who remained aloof during the whole exercise. Katie has the opposite of Bitchy Resting Face: Giddy Resting Face. A dreamy stare that exudes unicorns, trust funds and sparkly dresses.
As she hemmed and hawed about reinstating the gals to the guest list for her imaginary Gala, we see Katie for what she is. A teenage girl planning her Sweet 16 party who doesn't understand why everyone hates her because she is rich, beautiful and just a little cuckoo.
She sealed the deal by stomping upstairs to her room after Gizelle questioned her excessive PDA, cat-scratch-fever behavior at Ashley's kitty-kat birthday party.
And just like that, the sisterhood circle snapped shut ushering in Ruh-Roh moment #2 for our hostess.
The next morning, dawned rainy and grey inside and outside Chez Ashley. This is when I would normally be hitting a bar for Bloody Marys, but the Potomac girls huddled up to address the Giz-ele-phant in the room instead. It was all hands on deck to save Princess Katie who was pouting and locked in her tower because of that monster Giz-ella.
Karen, who found a bedazzler overnight, sported a sequined baseball cap emblazoned with the title "Queen," and seemed weary of these etiquette lessons.
Miss Manners never had it this hard.
They brought 1000 pieces of luggage and no one managed to throw in the infamous Potomac Etiquette Book? People get lazy on vacay and forget they weren't raised like alley cats.
Meow.
Cue the arrival of the par-tay bus. Woop!
Good, they were finally headed for some serious day drinking like a real gal pal hangout.
But no.
Wait for it…
They go to the Olde Time Picture Studio.
Wow, I misunderstood. Now I get it. By girl trip they meant their "girls" and all that cleavage. They keep hauling out "the girls" and putting them on display whenever humanly possible.
Seems like a lot of work.
Speaking of work, Katie channeled her inner Gloria Steinem and the serious face she practiced as a model to tell Gizelle to stop being a big bully. Gizelle apologized and it threw off Katie's speech.
What to do when you're trying to be all, "I am woman, hear me roar' and no one roars back?
Guess she will have to fill her time dreaming and doodling, ….Mrs. Andrew Martin… Katie Rost Martin…Mrs. Katie Rost Martin in big loopy letters in her room.
After a quick trip back to the bachelorette pad for a wardrobe switch, the disco bus returned to take them into Rehoboth for the night.
Seated around a big table over dinner, the group was finally getting along. They declared Ashley one of them and the hostess with the mostest.
Maybe it was the sea air. Maybe it was the rosy afterglow of the Sister Circle. Maybe it was Karen's extensive, mannerly work with Project Ashley that turned things around.
Hah, who am I kidding? It was the calm before the storm, baby.
The Potomac girls got down with their bad selves at a drag club. Karen may not surf but she twerks like Miley after a few pops of champagne.
The girls took a break from the dance floor to watch the revue. And then, it appears. There should be Jaws music as it made its' way to the unsuspecting beach goers. That shiny bald head reflecting all the light in the room yet bringing darkness to the weekend.
Australia in the house, mate, Ashley's husband Michael.
If Ashley had done her Housewife homework, she would know surprising your wife when she is away with her friends is a BRAVO Don't. Just ask Slade. He barely made it out alive because Vicki tried to stab him in the OC.
Ruh Roh moment #3 made her look a little Ash-en-ly.
Karen had a sudden and severe allergic reaction to all the crass behavior, rocking and mumbling to herself about right from wrong as she clambered back onto the bus.
Ashley broke the spell with these fateful words… "I don't care, he's staying."
Karen shuddered in disbelief, narrowing her eyes. The doors of the party bus flew back open as Karen glared at her protégé.
Had the last six episodes meant nothing to Ashley? Had she not learned even the most basic of etiquette standards? How could Ashley be so misguided as to think that she, Queen Karen, would spend the night in a house with a man?
Hope they tipped that driver or bribed him with hush money or something.
Turned out Gizelle and Karen were the only passengers on the anti-testosterone bus. They got no back-up as the rest of the gang stayed up with Michael playing beer pong into the wee hours.
Alright, now this is my idea of a girls' weekend!
Karen was knocked off her throne in the a.m. when she had to slum it in Princess Katie's SUV instead of high stylin' in the convertible like she did on the way there.
The passengers complained that the car smelled like crabs while Ashley waved enthusiastically from the porch. I bet right then she caught a big whiff of "good riddance" and turned the deadbolt before they left the gravel drive.
Next week: The Black Bill Gates and Michael rehash the weekend and Andrew has balloons but no ring. Sigh.