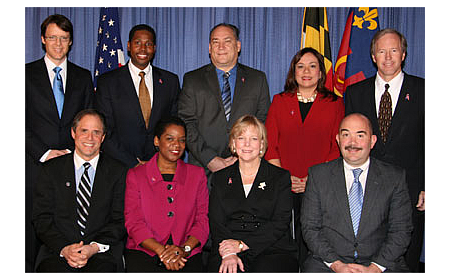 Town Hall Meeting at AFI
The Montgomery County Council will continue its efforts of going throughout the county to find out what issues most concern residents and the business community when it hosts a Town Hall Meeting for the Silver Spring area starting at 8 p.m. on Wednesday, March 13, at the American Film Institute (AFI) Silver Theatre and Cultural Center.
The AFI Silver Theatre is located at 8633 Colesville Road in downtown Silver Spring. The theatre is close to the Silver Spring Metrorail Station on the Red Line. Parking is available in nearby public garages.
The Council is composed of President Nancy Navarro, Vice President Craig Rice and Councilmembers Phil Andrews, Roger Berliner, Marc Elrich, Valerie Ervin, Nancy Floreen, George Leventhal, Craig Rice and Hans Riemer.
The meeting will be recorded for broadcast at later dates on County Cable Montgomery (CCM—cable Channel 6 on Comcast and RCN, Channel 30 on Verizon. Susan Kenedy, a producer for the County station, will moderate the meeting.
It is expected that schools, development, the climate of the Downtown Silver Spring business community, transportation, public safety and planning for the Fiscal Year 2014 operating budget are among the key issues expected to be part of the evening's focus.
"The County Council takes much pride in being open and accessible to our residents," said Council President Navarro. "We realize that, because many of our meetings are conducted in downtown Rockville during the work day, they are not convenient for many people to attend. For this reason, in addition to broadcasting all Council and Committee sessions on the County's cable channel and engaging the community through our web site, we host community forums throughout the county, in the evening, so that we can hear from more residents, listen to their concerns and answer their questions."
For more information about the Town Hall Meeting, call 240.777.7931.