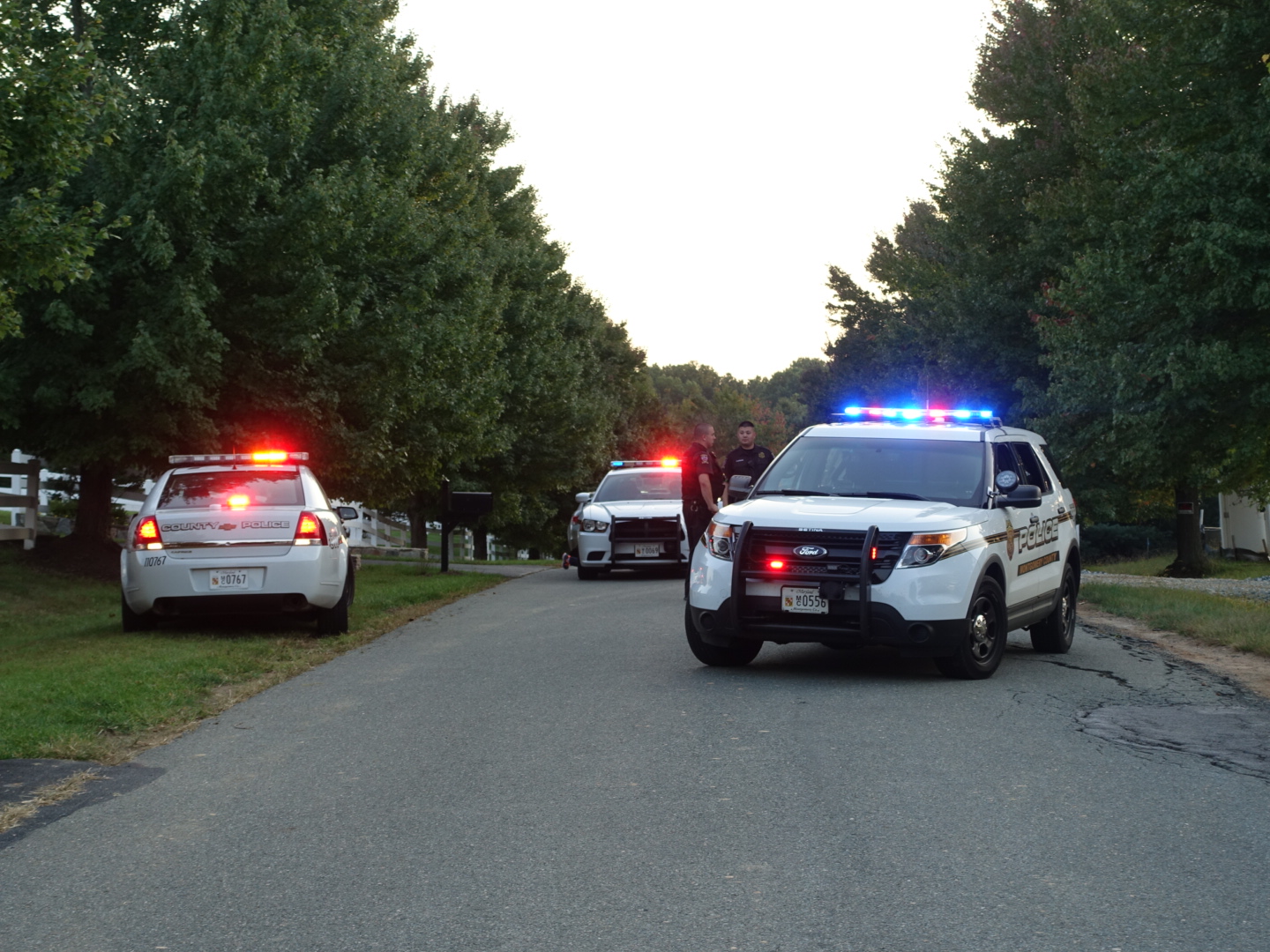 Two Found Dead After Car Crash, House Fire in Potomac (VIDEO & PHOTOS)
UPDATED Oct. 1 at 12 p.m. Police are now confirming the two deaths are connected. Police said the issues began at work. According to police, autopsies are underway and we should have more details about what led to these deaths later today.
Earlier today, in this MyMCMedia extra, Montgomery County Police Spokesperson Cpl. Rebecca Innocenti recapped information police had at the time:

ORIGINAL POST
Montgomery County police are investigating the discovery of two bodies, a man and a woman, found dead at two different locations in the Potomac area this afternoon.
Police Spokesperson Lucille Baur said police are investigating if there is a connection between the two deaths because of the proximity of the scenes, near Piney Meetinghouse Road and River Road, and because of the timing with which they occurred.
The first incident, reported by Fire and Rescue Spokesperson Pete Piringer on his Twitter account, was a fatal car collision at Piney Meetinghouse Road near River Road. Corporal Rebecca Innocenti said that call came into dispatchers at 2:33 p.m. today. A man was found deceased in the car, police said.
One minute later, at 2:34 p.m., Innocenti said dispatch received a report of a house fire at Great Elm Drive.
On his Twitter account, Piringer reported that firefighters found a deceased person in the garage on Great Elm Drive while responding to the report of a house fire. Piringer said a small fire in the garage was extinguished by firefighters. Police have confirmed the victim is a woman.
According to Piringer, police are investigating this incident as a death investigation. No other information has been released.
Investigating deaths as murder-suicide. Believe issues began in the workplace. Male homeowner on Great Elm and male suspect work together.

— Montgomery Co Police (@mcpnews) October 1, 2014
Death Investigation Update: MCP confirming death on Great Elm and death on Piney Meetinghouse/River Rd. are related. (Cont)

— Montgomery Co Police (@mcpnews) October 1, 2014
Investigating deaths as murder-suicide. Believe issues began in the workplace. Male homeowner on Great Elm and male suspect work together.

— Montgomery Co Police (@mcpnews) October 1, 2014
— Montgomery Co Police (@mcpnews) October 1, 2014
MCP is presuming that victim is the female homeowner and wife of male homeowner. There is no known relationship between victim and suspect.
— Montgomery Co Police (@mcpnews) October 1, 2014
MCP investigating fatal collision & fire with a deceased person at a nearby residence. Calls came in within a minute of each other cnt'd — Montgomery Co Police (@mcpnews) September 30, 2014
Road closures due to death investigations include: both directions of Great Elm Dr. & 2 blocks of Piney Meetinghouse Rd. near River Rd. — Montgomery Co Police (@mcpnews) September 30, 2014
U/D Piney Meeting House Rd near River Rd, tree on top of car with entrapment, some lanes may be BLOCKED — Pete Piringer (@mcfrsPIO) September 30, 2014
Traffic Advisory – River Rd near Piney Meetinghouse Rd, Potomac, collision, car into tree, possible entrapment — Pete Piringer (@mcfrsPIO) September 30, 2014
U/D. Great Elm Dr, FFs located a deceased victim in garage area, small fire was extinguished, MCP conducting death investigation — Pete Piringer (@mcfrsPIO) September 30, 2014
U/D Great Elm Dr, Potomac, small fire in garage, fire under control, #mcfrs FFs investigating, PD called to assist — Pete Piringer (@mcfrsPIO) September 30, 2014